It seemed like a typical Friday in August for Marcy Maddox. She was between meetings with her staff at MU Health Care's Women's and Children Hospital, thinking about what the weekend would bring. Then an unfamiliar number appeared on her cellphone. She didn't answer the call. Then her phone rang again, this time showing the number of her husband, Steve. Because it was almost lunchtime, she thought he was calling to chat.
But it wasn't her husband, it was his boss, alerting her that something was wrong. Steve, a shop foreman at Joe Machens Ford in Columbia, had got up to visit with colleagues when they noticed something wasn't right and called 911, Marcy learned. 
"I knew, based on some of the things happening — the weakness on one side, the slurred speech, the headache — that something serious was going on," Marcy said. 
Steve, 45, had suffered a hemorrhagic stroke, caused by an artery leaking blood into his brain. 
"The last I remember was getting on a stretcher to get in the ambulance," Steve recalled. "I just remember my head hurting but thought my equilibrium was off."
When a stroke happens, every minute counts. The sooner someone gets care, the better chance of recovery.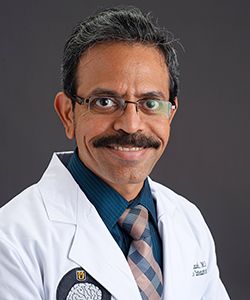 Patients who arrive at University of Missouri Health Care's comprehensive stroke center are seen, scanned, diagnosed and treated within 90 minutes of arrival. Stroke patients get the most advanced care from a team that includes both neurointensivists — specialists who treat life-threatening diseases of the nervous system — and neurosurgeons, as well as a dedicated stroke neurology team. Premkumar Nattanmai, MD, a neurointensivist and medical director of MU Health Care's neuroscience intensive care unit, was part of Steve's care team.
"Steve had a huge bleed on the right side of his brain, so it was important we move quickly to relieve the pressure so the brain could start to recover," Nattanmai said. "Time is brain. Every one minute, almost 2 million brain cells are dying. If you're waiting 10 or 15 minutes, it's a big thing for the brain."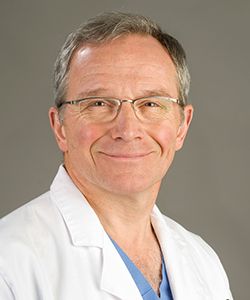 Steve spent 18 days in the neurosciences ICU. Thorkild Norregaard, MD, a neurosurgeon, cut a small hole in Steve's skull to relieve the pressure on his brain and remove the clots. Nattanmai placed Steve in a medical coma that day to control his high brain pressure while allowing time for Steve's brain to rest and recover.
Hemorrhagic strokes account for about 10 to 20 percent of all strokes. Though hemorrhagic strokes are less common than ischemic strokes, caused by blood clots, they are far more deadly.
To minimize risk, Nattanmai recommends eating a healthy diet, exercising regularly, avoiding recreational drugs and having regular check-ups to monitor high blood pressure and cholesterol. Above all else, Nattanmai said, people can lower their chances of stroke by not smoking and not drinking alcohol. 
Steve, who was not a smoker and felt generally healthy, had missed an annual check-up and was determined to have undiagnosed high blood pressure, one of the most common causes of stroke. 
"It's a little unusual but not uncommon to see someone so young, like Steve, suffer a stroke," Nattanmai said. "We have very busy and hectic lives in general. The stress in our lives definitely plays a role."
Steve's colleagues had recognized his symptoms and acted fast to seek help. It's important to know the signs of a stroke by remembering the acronym FAST: Face (drooping); Arm (weakness); Speech (slurred); and Time (call 9-1-1).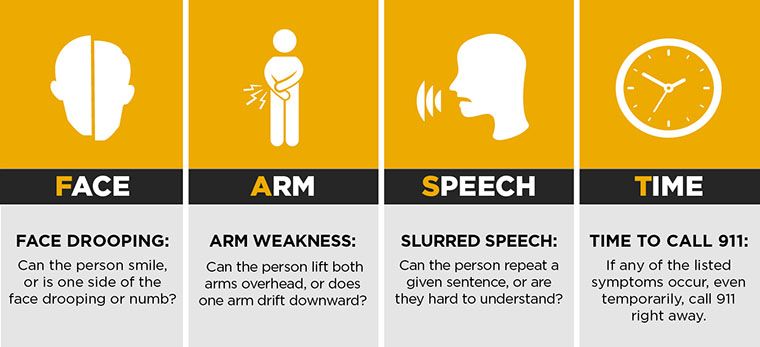 Many patients recovering from hemorrhagic stroke need long-term rehabilitation and might never recover their previous lifestyle. After being at University Hospital for 26 days, Steve spent 24 days at a critical care hospital and then 46 days at Rusk Rehabilitation Hospital, an affiliate of Encompass Health and MU Health Care, learning how to move his left arm and leg again. He returned home in early December and mentioned to Marcy that he wanted to walk into University Hospital to thank his caregivers after he recovered. 
Marcy knew her husband was determined to do this, but she didn't think it would happen so soon.
On March 13, Steve followed through on his pledge. Doctors, nurses and staff members gathered, wearing special green T-shirts in recognition of Brain Injury Awareness Day. Shortly after noon, Steve and Marcy approached the neuroscience ICU doors. Just before the door opened, Steve stopped his wheelchair and stood up.
He walked into the ICU and thanked his care team for saving his life, taking care of his family and providing encouragement to recover.
"It's been a long journey, but I was able to continue with the help of everybody at MU Health Care," Steve said. "I don't remember a lot of people, but I could tell on their faces when I walked in, they remembered me."