Sarah Hadley felt the first twinge of pain in her left hip as an eighth-grader while she leaped over hurdles at track practice. As an all-around athlete who changed uniforms with the seasons, she was familiar with minor aches, but this didn't go away. After her freshman year, she had surgery to repair a torn labrum in the hip.
When Hadley resumed running, the severe pain returned, signaling the problem with her hip went beyond the labrum. She was just 15 years old, but she had to give up her athletic activities. She felt like she lost her identity.
"There had never been a season I wasn't involved in some sport," said Hadley, a native of the Chicago suburb of Lockport, Illinois. "I had played volleyball, ran track, danced, played basketball. There wasn't anything I didn't try. All the sudden, going into my sophomore year of high school, I wasn't able to do anything. It was a huge uproot in my life."
In time, Hadley accepted her situation and filled the void in her schedule by singing in choirs and working part-time jobs. After graduating high school, she enrolled at the University of Missouri. To stay fit, she tried short jogs of one or two miles, but she felt miserable on the days after those runs.
"I always had a dull ache," Hadley said. "Nothing really felt right. Certain movements or activities would cause more of a stabbing pain. I've never had a dislocated joint, but that's almost what it felt like. I felt like if somebody would just pull my leg really hard, maybe it would pop into place and feel better."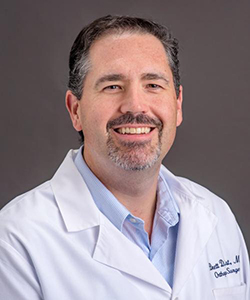 She scheduled an appointment at MU Health Care's Missouri Orthopaedic Institute, where she met surgeon Brett Crist, MD. When Crist performed arthroscopic surgery on Hadley's left hip, he saw the extent of her problem.
Her left thigh bone was rotated inward — a condition she was born with — which caused the head of her femur to fit awkwardly in the hip socket. Over the years, the grinding from all her running and jumping had eroded the cartilage on her femoral head that cushions the joint and helps it move smoothly, and tore the labrum that seals it. To solve all Hadley's issues, Crist proposed a three-part surgery.
First, to fix the root of the problem, he would cut through the thigh bone, rotate it to the proper angle and hold it in place with a plate and screws until the bone healed.
Second, he would use donated tissue to replace the damaged labrum.
Third, he would address the deteriorated cartilage by grafting donated bone and cartilage to her femoral head before reinserting it into the hip socket. That procedure, known as an osteochondral allograft transplant, is a specialty of MU Health Care's Mizzou BioJoint® Center. MU researchers developed the Missouri Osteochondral Preservation System (MOPS), which extends the effective storage life and improves the viability of cartilage grafts obtained from organ and tissue donors for use in osteochondral allograft transplants.
Before deciding on a BioJoint procedure, Hadley had a thorough discussion with Crist about the risks and benefits of surgery, why each part was recommended and other options for her hip problems. Hadley decided the surgery gave her the best chance to again enjoy the activities of her childhood. In August 2017, just before her junior year at MU began, she underwent surgery.
Rehab took more than a year and was sometimes painful, especially when the metal plate that stabilized her femur caused irritation of her iliotibial band as she starting increasing her activities. In the summer of 2018, her thigh bone had healed from the rotational osteotomy, allowing Crist to remove the plate. In January 2019, after her BioJoint graft had enough time to heal, she was cleared to run and jump.
"She's doing awesome," Crist said. "She's been a superstar after she got through the healing process. She had her down moments, like anybody would with a longer recovery. That's one of the challenges with any recovery from a surgery or injury, continuing to say, 'I'm getting better overall, even though I have a setback here or there.' She stayed consistent with her activities, like stretching and rehab."
Hadley, 22, who graduated from MU in May 2019 with a degree in hospitality management, is now making up for the athletic endeavors she missed during high school and college. She and her boyfriend do CrossFit — a demanding fitness program — five days a week, and she joined a sand volleyball league.
"Playing sand volleyball with my friends is my favorite thing," she said. "I can do that and not be in pain and have fun."