Cervical cancer used to be the leading cause of cancer deaths in women. But thanks to screenings such as the pap and HPV tests, cervical cancer rates are declining.
"Cervical cancer screening has been one of the most effective public health innovations in human history," said Mark Hunter, MD, a gynecologic oncologist at University of Missouri's Ellis Fischel Cancer Center.
"Although we are still perfecting the strategy, while incorporating new techniques and technologies, millions of women have been spared from the terror of this disease over the past 50 years."
Screenings
Pap and HPV tests can be used to screen for cervical cancer. Hunter suggests talking with your physician about which test is best for you. Both are done in your doctor's office. Results typically come back within a few weeks. Depending on your age and your last test, your doctor will recommend how often you should be screened.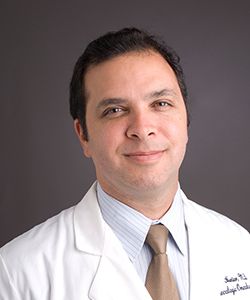 "Cervical cancer screening enables us to detect the presence of the virus or the preinvasive condition that can progress to cervical cancer," Hunter said. "By detecting the disease before it becomes cancer, we can remove the problematic cells using minor, office-based procedures long before the need for radical surgeries, radiation or chemotherapy."
Women should begin screenings with the pap test at age 21. If screening results are normal, doctors might recommend waiting three years before the next pap test. 
For women ages 25-65: 
If you choose a pap test only and the results are normal, you should be screened again in three years.
If you choose the HPV test and your results are normal, your doctor might suggest waiting five years before your next screening. The HPV test looks at your cells to see if they contain the HPV virus, which can cause cancer. You can begin the HPV test at age 30.
If you have the HPV test along with a pap test and your results are normal, you will need to be screened again in five years.
In general, all healthy women should continue to be screened with a pap test regardless of age. If you've had your cervix removed and do not have a history of precancerous or cancerous tumors, you do not need to continue screening.
Women with a history of cervical cancer or serious cervical precancer should continue to be tested at least 25 years after diagnosis, even if testing continues past the age of 65 or if the cervix has been removed.
Ellis Fischel partners with the Show Me Healthy Women program, which offers free breast and cervical cancer screenings for Missouri women who meet age, income and insurance guidelines. 
HPV vaccine
In addition to screening tests, it's important girls and boys receive the HPV vaccination before being exposed to the virus. This vaccine is effective and safe at preventing cancers caused by HPV. 
"HPV vaccination provides girls and women with protection against many of the HPV viral types that cause cervical, vulvar and vaginal cancer," Hunter said. "The vaccine can be given to boys and girls, usually between ages 11-12, to women through age 45 and to men through age 26."
Hunter reminds parents that boys and young men should receive the HPV vaccine even though vaccination rates are low.
"By vaccinating your male child against HPV, you are protecting him from penile cancer," Hunter said. "And you are protecting the future mother of your grandchildren from the agony of the terrible disease of cervical cancer." 
Other tips
"Women can prevent gynecologic cancers by limiting or eliminating smoking, drinking, eating charred meat and reducing environmental toxins as well as losing extra weight and increasing physical activity levels," Hunter said.  "Additionally, birth control pills have been shown to profoundly lower the risk of both uterine and ovarian cancer."
To further reduce the risk of cervical cancer, use condoms during sex, and limit the number of your sexual partners. This reduces risk of contracting HPV, as well.