If you receive a diagnosis of cervical, ovarian, vaginal or vulvar cancer, you want compassionate care from a team of gynecologic experts who specialize in the unique needs of women. At University of Missouri Health Care, you will receive excellent, trusted gynecologic cancer care.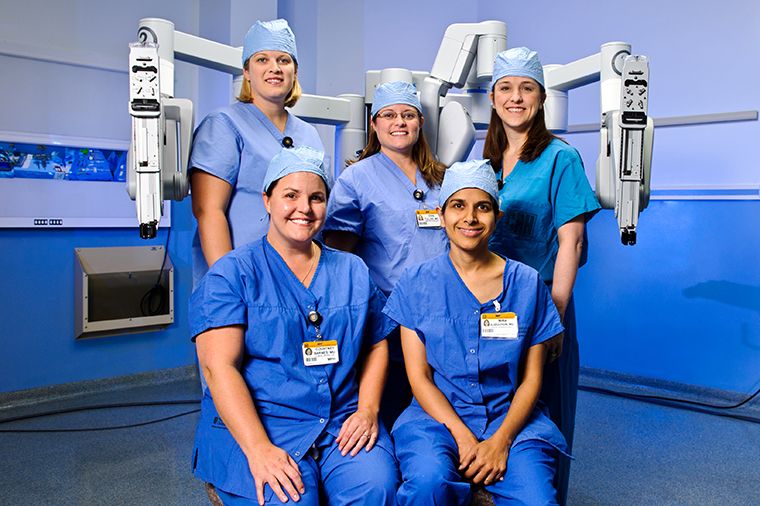 Our gynecologic oncology doctors and staff are committed to giving you multidisciplinary care, meaning we work closely with other specialists at MU Health Care's Ellis Fischel Cancer Center and Women's and Children's Hospital to ensure all available treatment options are considered and you get the best care possible.
Complete gynecologic oncology services
At MU Health Care, you are given access to the full suite of gynecologic oncology services. This means you can receive advanced treatments for all types of gynecologic cancer without driving far from home.
In addition to standard medical and surgical treatments, advanced services available at MU Health Care include:
Access to many national gynecologic cancer clinical trials, including those of the Gynecologic Oncology Group 
Endoscopic gynecologic surgery
Expert colonoscopy and treatment of pre-invasive cervical diseases
Long-term cancer surveillance
Treatment of invasive and noninvasive vulvar diseases
Treatment of noncancerous gynecologic conditions
Gynecologic oncology clinical trials
As an academic medical center, MU Health Care has access to the latest research, including clinical trials that test new and advanced medicines. In some cases, clinical trials give our patients more treatment options, which may lead to better outcomes. Ask your doctor for more information about gynecologic cancer clinical trials available through the clinical trials program at Ellis Fischel Cancer Center.
Gynecologic oncology survivorship clinic
As you complete your cancer treatment, you might think about what will happen next. Returning to everyday life can be challenging. To help you transition and live your life to the fullest, we developed a unique gynecologic cancer survivorship clinic.
In the survivorship clinic, you'll be given the opportunity to address survivorship concerns, including emotional, physical, sexual and relationship issues.
When you participate in the gynecologic cancer survivorship clinic you will receive:
A personalized treatment summary to share with your primary care provider
Tips for managing the long-term side effects of gynecologic cancer treatment and the late effects related to treatment
Nutrition and exercise recommendations
Access to more resources through local and national cancer survivorship groups
Education and coordination of follow-up care with your primary care provider and oncologist
All of these services will benefit your quality of life after cancer treatment. Ask your oncologist or social worker for more information about the benefits of a survivorship care plan.
Related Conditions & Treatments