Patrick Lehmen can complete a day of accounting work without his right knee stiffening. He can sleep through the night. He is taking fitness classes and has set a goal to run a 5K race.
None of that would have been possible without Megan, an adventurous 22-year-old Minnesota woman Lehmen never met. Megan died in a skiing accident, but her decision to be a tissue donor has had a profound impact on Lehmen, a 40-year-old Jefferson City resident whose knee was rebuilt at the Mizzou BioJoint® Center with cartilage and bone donated by Megan.
"I just pray and thank my donor every day for what she's given to me," he said.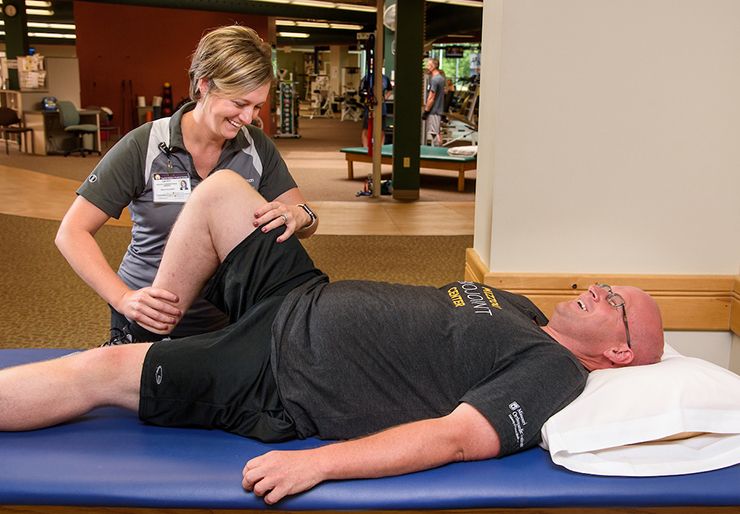 For more than two decades, Lehmen suffered from knee pain. His struggles dated back to his teen years, when his right kneecap regularly dislocated, preventing him from playing high school football and doing other activities. The condition worsened over time.
Because of his young age, a traditional knee replacement wasn't a good option for Lehmen. He was a candidate for a different procedure for patients 55 or younger done at MU Health Care's Missouri Orthopaedic Institute. BioJoint is a biological alternative to traditional joint replacement in which donated tissue grafts are used to rebuild joints.
That is why donors such as Megan are so important.
Although 95 percent of Americans support organ and tissue donation, only 54 percent are signed up as donors, according to organdonor.gov. An organ donor can save up to eight lives, and a tissue donor can improve up to 75 lives, according to donatelife.net.
James Cook, DVM, PhD, OTSC, director of the Mizzou BioJoint Center, and James Stannard, MD, medical director of the Missouri Orthopaedic Institute, value the donated tissue that makes their procedures possible. Since the Mizzou BioJoint Center opened in July 2015, Cook, Stannard and their colleagues set out to find new ways to increase access to the tissue that not only enables them to perform transplant procedures, but also helps ensure donor tissue is available to help as many people as possible.
The team developed the Missouri Osteochondral Allograft Preservation System (MOPS). The MOPS cartilage and bone preservation system effectively doubles the 28-day storage life that used to be standard. Before MOPS, roughly 70 to 80 percent of qualified donations would be discarded because the window of time for effective preservation was too short to allow for grafts to be used.
"We had to basically be on call so that when the tissue bank notified us of a match, we had to tell patients, 'You literally have to have surgery this day. If that doesn't work for you, we have to pass on this graft,' " Cook said. "Now, we typically can give patients at least a full month to schedule and prepare for the surgery. We can give options on surgery days and timing."
When a qualified donor such as Megan emerges, the tissues are procured and sent to the Musculoskeletal Transplant Foundation in New Jersey for preservation in MOPS. A donor database is updated with graft measurements. With MOPS preservation, only about 20 percent of qualified cartilage-bone tissue donations go unused at MTF now.
Tissue donation provides anonymity, though the Mizzou BioJoint Center offers recipients the chance to thank their donors by writing a letter to the family. Donor families have the option to respond.
Megan's family wrote to Lehmen and told him Megan was born blind but never let that hinder her pursuit of adventure. She led a full life, pursuing an advanced degree in information technology and spending free time waterskiing, downhill skiing and even skydiving. Her family had the tough discussion about what Megan wanted to do with her organs and tissue should tragedy strike.
"Most everyone knows to check the box on your driver's license to be a donor, but there's also a major Step 2 that people should do, and that's talk to your family," Cook said. "If you're an organ donor, it's really important that you discuss it with your family so they know that you are very serious about it. They need to be fully on board and honor your wishes at that very difficult and emotional time. It's always a tragic thing that a life is lost, but the tragedy can turn to triumph."
For living proof of tissue donation's importance, look no further than Lehmen. More than 15 months removed from his BioJoint procedure, Lehmen said he is "feeling really good." He completed his physical therapy at the Capital Region Medical Center Healthplex West in Jefferson City but still takes a variety of workout classes at Capital Region's Sam B. Cook Healthplex in addition to doing exercises at home.
"I don't really know how to thank them," Lehmen said of Megan's family. "We may find a way to meet in person someday, and I would be more than willing. That would be the least I could do. I just told them how thankful I was."