In 2018, after several attempts to lose weight and keep it off through dieting, Laura Huntley considered bariatric surgery. During an initial consultation on surgery for Laura at MU Health Care, Laura and her husband, John, both decided it was time to pursue surgery.
The Huntleys, both Columbia residents, had long struggled to maintain a healthy weight. At their heaviest, they weighed a combined 708 pounds. John wanted to make sure he would be around to help their three children grow into adulthood. Laura knew losing weight could help with fertility as the couple considered adding to their family.  
The more John thought about surgery, the more it made sense.
"When John said he would do it, honestly, it was such a great moment for me in our marriage and in my health, because I knew how much more successful I might be at this with him doing it," Laura said. "One of my fears is his health, and to see us both really being very active in our health journey is great."
***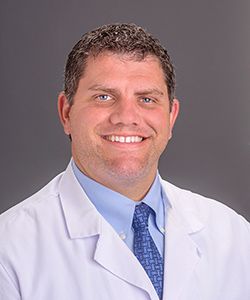 The Huntleys' first step toward surgery was a meeting with Andrew Wheeler, MD, MU Health Care's chief of bariatric and metabolic surgery. Laura and John were candidates for surgery based on a body mass index (BMI) between 35 and 60. 
"At MU Health Care, we strive to offer personalized and safe options to lose weight," Wheeler said. "Not everyone needs surgery, but by providing a team approach, the hope is that we can help address a lot of different areas that people struggle in."
MU Health Care offers multiple bariatric surgery options. Gastric bypass made the most sense for the Huntleys. 
In this procedure, part of the stomach is removed, and the new, smaller stomach is redirected to a lower part of the small intestine. The smaller stomach means patients feel full after eating less, and the body absorbs fewer calories because food travels through less of the intestines.
Side by side, the Huntleys began the journey. They enrolled in preoperative classes, which are an insurance requirement but also a great way to learn about their new lifestyle.
"They were really informative," Laura said. "We would weigh in, talk about how weight loss was going, ask questions and learn about eating before and after the surgery, which becomes how we're going to eat lifelong. We were able to hold each other accountable and make sure we went to each class and prepared for the upcoming surgeries."
In early October 2018, Wheeler performed surgery on John. Three weeks later, it was Laura's turn. 
"It's very exciting to me when we have family members come in together to have surgery," Wheeler said. "The wonderful thing is you then have someone that's in the trenches going through the same procedure with you. During those challenging times, you've got someone who can encourage you and who is doing it right alongside you."
***
As they began their new life, Laura and John leaned on each other. For example, they would remind each other about the need to eat and drink plenty of protein, which is key to ward off hunger and unhealthy cravings. 
In the first year after surgery, John and Laura lost a combined 280 pounds.
"It's always good to have a friend, someone who understands what you're going through, because so many people will say to my patients that, 'Well, you're taking the easy out,'" Wheeler said. "Anyone who's been through this understands it's not easy, but it's so worth it."
Now, Laura and John are looking forward to being active and spending more quality time with their children.
"One thing I've noticed happening fairly quickly is my energy level," John said. "I have more energy, which was another thing I wanted for my kids — not just duration of life, but quality. There were certain things that I couldn't do with them, and now I'm looking forward to one day riding roller coasters and climbing mountains with them."