When facing weight loss challenges, you need compassionate, comprehensive support. At University of Missouri Health Care, our team of weight loss experts — including bariatric surgeons, registered dietitians and physical therapists — help you overcome weight loss obstacles with personalized treatment programs.
Our bariatric experts offer the most effective, minimally invasive treatment for fast, long-term weight loss: gastric bypass surgery, also known as Roux-en-Y surgery. Using the latest techniques and research to guide your treatment, we can help you achieve your weight loss goals.
Our team works closely with your primary care provider as the patients lose weights to help reduce or eliminate medications that you may already be taking.
Advanced, effective weight loss surgery
The gastric bypass surgery procedure uses a combination of restriction and malabsorption. A restrictive procedure makes the stomach smaller to limit the amount of food Intake. A malabsorptive procedure reduces the amount of intestine so the body absorbs fewer calories.
During gastric bypass surgery, our surgeons make a few small incisions (about the size of your thumb) in your abdomen. Using specialized tools and a camera, we remove part of your stomach, reducing it to the size of a small pouch. This new, smaller stomach is redirected to a lower part of the small intestine so food passes by the rest of your stomach and the top of your small intestine.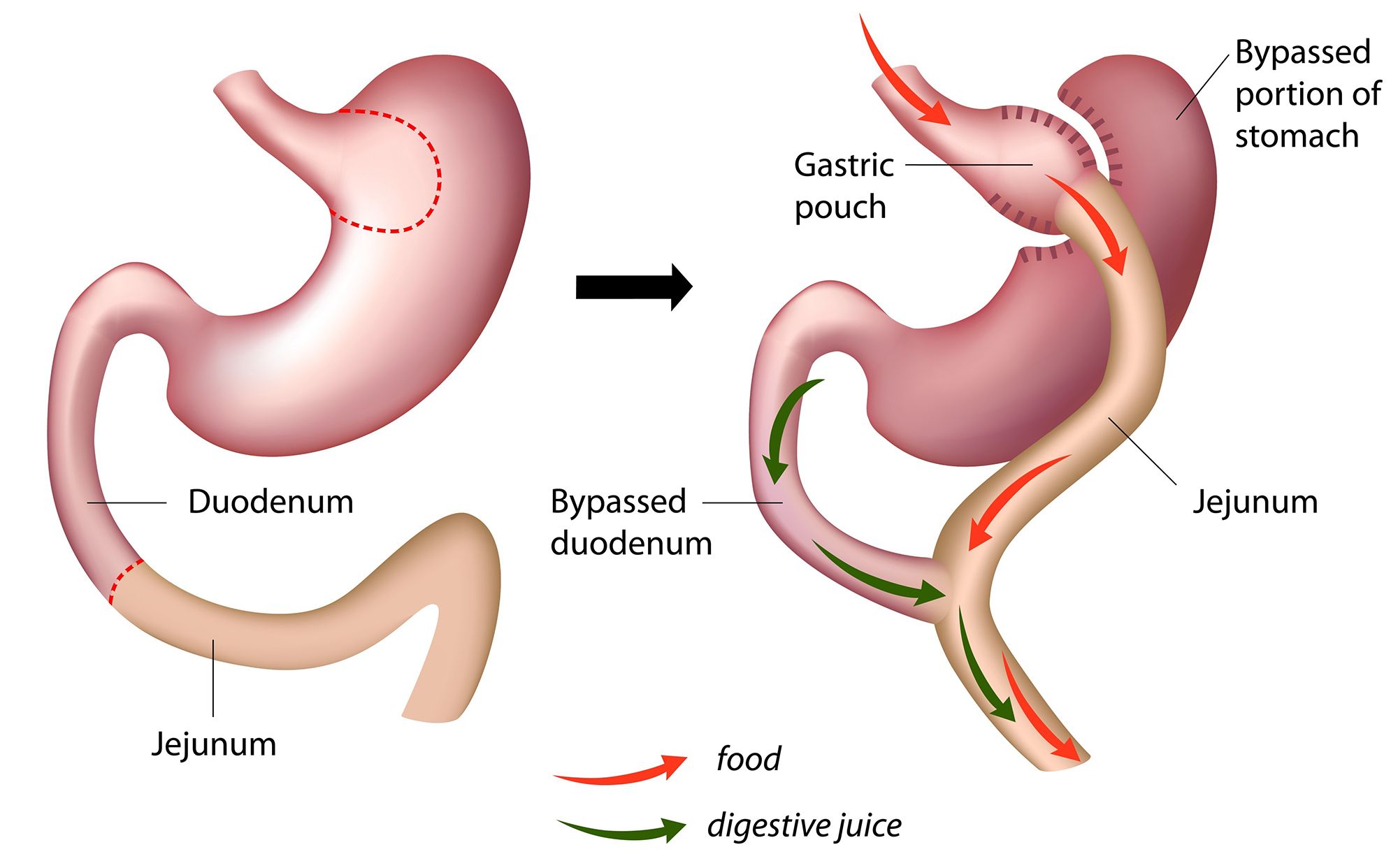 Minimally invasive surgery means you recover from surgery faster with less pain and fewer risks for infections. Our experienced surgeons have performed thousands of these procedures, so you know you are in good hands.
This procedure can:
Help control sweet and carbohydrate cravings
Reduce hunger and improved satiety with smaller amounts of food
Be reversed
Half of our patients go home after one night in the hospital-the other half go home the second night-depends on personal recovery.
Long-term weight loss support
After gastric bypass surgery, our patients loose on average about 30 pounds in the first month and then one to two pounds per week. The surgery helps you lose weight in multiple ways. First, since you have a smaller stomach, you eat less food. Second, some patients may experience less hunger due to a decrease in a hormone that causes cravings. This helps you make better food choices.
You may even see fast improvement in chronic conditions. After surgery, you and your doctor may decide you no longer need to take diabetes medicine, blood pressure medicine or other medicines.
The MU Health Care weight loss team helps you maintain your weight loss and achieve better health. We offer support before, during and after surgery so you can adopt healthy habits that will benefit your whole body. Our specialized registered dietitians help you understand what you can and cannot eat after surgery, designing a nutrition plan that helps you consume the vitamins and minerals you need while still supporting weight loss.
Our physical therapists also help you build strength and cardiovascular health after surgery through personalized exercise programs. Exercise not only helps you lose weight, it improves the health of your muscles, bones and heart, reducing your risk for other health conditions.
Your MU Health Care weight loss team offers the care you need for as long as you need it. Through support groups, individual appointments and other resources, we help you continue to lose weight and keep it off for life.
Learn more about Bariatric Surgery Services at MU Health Care.