A motorhome explosion in Moberly, Missouri, nearly killed Tom Cochran.
As a purchasing agent for pipeline projects, Tom, 64, has worked throughout the United States. While his home is in Philadelphia, Mississippi, he will live from his motorhome at a nearby campsite during the projects that span several weeks or months. That is how he found himself in Moberly on Oct. 21, 2014, the day he nearly burned to death.
 "Dr. Litt worked miracles and saved my life," Tom said. "Dr. Litt is not only a great doctor, but I am still in contact with him and consider him a friend."
Tom was unwinding after work on what had been a typical Tuesday when the explosion occurred. Earlier that day, a repairman had stopped by the motorhome and, unbeknownst to Tom, had removed the furnace. He had not left a note or a lock-out tag to alert Tom of the hazard. Tom had turned on the gas for his water heater to warm up so he could shower and was watching TV when the home exploded.
The blast knocked him over, blew the roof off and blew out every window. He was trapped inside the rubble. His neighbors used a crowbar to pry him out and then turned the propane off.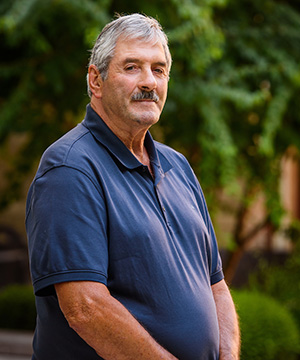 They drove him to the nearest emergency room at Moberly Regional Medical Center. Thirty-one percent of Tom's body surface was burned, including his face, ears, hands, chest, back, legs and feet. The severity of the burns ranged from superficial burns to full thickness burns, meaning the skin was destroyed.
"I saw the chopper was there on the helipad when we got there," Tom said. "That's probably what saved my life. It's just really a miracle that it was there."
The Staff for Life Helicopter Service airlifted Tom to MU Health Care's Level I trauma center in Columbia. Burn specialist Jeffrey Litt, DO, led Tom's care.
Gail Cochran, married to Tom for 45 years, drove 11 hours from Mississippi to Missouri to be by Tom's side.
"Everybody up there was so nice to my wife," Tom said. "She stayed right there with me the whole time. I hope every man has a wife as good as I do to stay with me the way she did."
During his 41-day hospital stay, Tom underwent multiple skin grafts and reconstructive surgeries. The most painful part of the treatment, he said, was debridement.
During debridement, the charred skin is removed so that it can be replaced with healthy skin, grafted from unburned parts of the patient's body. He praises Litt's surgical skills and jokes that he has no wrinkles on his face now.
"They thought they were going to lose my ears and a couple fingers but Dr. Litt was able to save them," he said.
Before returning home to Mississippi, Tom continued his recovery at Rusk Rehabilitation Hospital, an affiliate of Encompass Health and MU Health Care, in Columbia.
 "Everybody we dealt with were the nicest people we ever wanted to meet," he said. "They would do anything for you, any one of them."
In October 2015, one year after the explosion, Tom and Gail traveled from their home in Mississippi to Columbia, Missouri, to thank and reunite with their caregivers.
Today Tom is doing well. He said he is still healing and continues to undergo physical therapy for his hands. He tries to stay active by walking and mowing his lawn with a push mower.
"If it wasn't for the medical center and rehab, I wouldn't be here today," he said.