At Ellis Fischel Cancer Center, our passion for knowledge and discovery allows us to leverage leading-edge research to offer personalized treatment that moves cancer care forward. As the first cancer center west of the Mississippi, Ellis Fischel has been pioneering cancer care since 1940.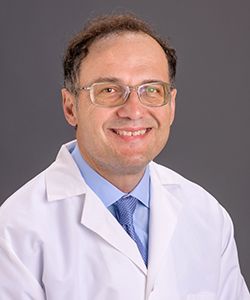 "Our promise is to provide science-driven medicine in a compassionate way that offers multiple options, all striving for a cure," said Christos Papageorgiou, MD, medical oncologist and clinic medical director of Ellis Fischel. "Academic medicine gives doctors from multiple specialties the ability to come together in a variety of forums every day to discuss patient care and develop an individualized treatment plan based on the most recent advances in medicine."
Research uncovers new treatments
Ellis Fischel patients have access to the latest treatments, including immunotherapy, which is a type of precision medicine that allows us to harness the body's immune system to fight cancer. Immunotherapy treatments are now available for patients with bladder, cervical, colorectal, gastrointestinal, head and neck, kidney, liver, lung, lymphoma, melanoma, multiple myeloma and skin cancers.
"We start in our laboratories developing leading-edge treatments," Papageorgiou said. "We're collaborating with other disciplines and translating our findings right to your bedside. We are proud that we can offer original, personalized medicine based off of your genetics."
This approach to treatment is one of the hallmarks of an academic health system. In the past, head and neck cancers required treatments such as chemotherapy and radiation. Thanks to advances in immunotherapy, patients with these cancers now have a treatment option in which we can activate their immune systems instead.
Innovative clinical trials lead the way
Ellis Fischel also offers clinical trials, providing patients access to innovative treatments before they are widely available. By participating in trials, patients set the standard of care for the next generation.
"Patients who participate in clinical trials can help find a cure themselves but also altruistically for the next patient," Papageorgiou said. "Even if we just move a little in our understanding, finding out one agent that helps them might help cure the next patient."
Our doctors and patients have been participating in clinical trial research for decades and have contributed a vast amount of knowledge to science. Thanks to these patients, standards of care have changed.
In the mid 1990s, Ellis Fischel participated in a leading-edge clinical trial testing a breast cancer drug called Tamoxifen. This was one of the first targeted drugs for cancer care. Through this clinical trial, it was found that Tamoxifen helps prevent breast cancer in certain women and can stop breast cancer cells from growing if breast cancer has already developed.
The upcoming opening of our NextGen Precision Health Institute will continue to allow our doctors to investigate and research personalized medicine for not only our patients, but to share those treatment findings throughout the world. This helps our doctors provide personalized care whether it be through treatment options like immunotherapy or targeted therapy, or utilizing the most advanced technology like the 7-Tesla MRI and CT scanner. We currently have the ability to customize prevention and treatment options by looking at a person's genetics, environment and lifestyle. Now, we'll have the option to move that treatment forward with precision health.
 "Understanding a person's genetic makeup and how the cancer is growing gives us the chance to specifically target and eliminate cancer growth," Papageorgiou said. "Precision medicine gives us this advantage when selecting treatment options for our patients. We're able to develop more effective treatments for mid-Missourians and work towards a cancer cure."