One spring day five years ago, Megan Moore dusted off her 20-year-old bicycle and started pedaling. She didn't go far or fast, but that wasn't the point.
Moore had been spending most of her physical and mental energy keeping her three young children happy and safe. She wanted to get back in shape. Even more than that, Moore wanted to break out of her routine. So she put her husband in charge of the kids for an hour and hit the road.
"It was kind of a big thing to venture away from my family and ride my bike alone," said Moore, an associate professor of French at the University of Missouri. "I think my oldest was about 8. It felt wild and incredibly liberating to ride away. I was just so proud of myself to take the risk to do something totally different for myself, by myself, and have it be my own personal achievement."
Moore, 42, said she had never thought of herself as a competitive, performance-driven athlete, but she quickly took to cycling. She joined the Big Tree Cycling club and started logging about 125 miles per week. She was so devoted to the sport that she bought a road bike to keep in France, where she takes an MU student group to study abroad each summer.
"I was working really hard to get better fast — maybe a little too fast," Moore said.
When she returned from France in August 2017 after a few months filled with strenuous climbs, Moore's lower back started hurting during rides on the trails of mid-Missouri. By the fall of 2018, she felt a dull ache all the time. She put off seeing a doctor because she worried that her pain meant she would have to give up the activity that brought her such freedom and joy.
"I was at a point where I wasn't sleeping very well," Moore said. "It was very painful. I thought I was going to get news that I really shouldn't be doing this anymore because I'm arthritic or there's something structurally wrong, and if I keep doing this, I'm going to have back surgery."
Moore decided to put her fears aside and scheduled an appointment with Brian Toedebusch, MD, a sports medicine doctor at MU Health Care. To her relief, he didn't recommend surgery. Instead, he recommended she work with a physical therapist. MU Health Care has more than 65 outpatient physical therapists, many of whom have expertise in specific activities such as golf, running and throwing.
Moore began therapy with Tim Tracy, PT, an avid cyclist who has a deep understanding of cycling injuries and strategies to stay healthy.
"Just like anything, if you participate in it, you have more passion and insight," Tracy said. "I can help provide that to cyclists and give them specific programs that relate to their training intensity, whether they're in a particular phase of training or just riding recreationally.
"Plus, I just like talking to people about all aspects of cycling and training."
When Tracy assessed Moore, he saw that she demonstrated common compensation patterns that overloaded her low back and contributed to her pain on and off the bike. Tracy adjusted Moore's posture on the bike and taught her customized exercises to help her use the correct muscles for the job.
"Tim would teach me to do a simple bridge but slowly and with a ton of concentration," Moore said. "He was able to show me how smaller movements and taking things piece by piece is really the key to training my body."
Tracy and Moore worked together from January through March 2019. He gave her a focused exercise and stretching program to follow, particularly before and after rides, to prevent a relapse of her back pain.
"The education was not just about learning to use my glutes and feeling them on the bike but also re-educating me as an athlete as to good practices," Moore said. "It's not that I didn't stretch before, but I stretched ineffectively."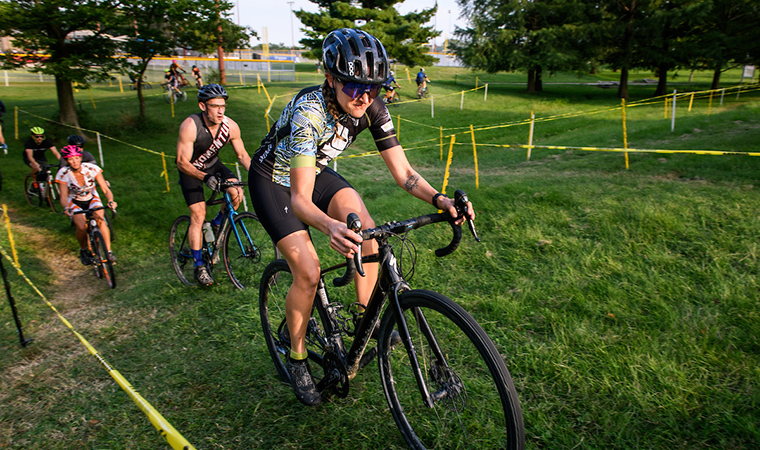 On May 19, 2019, just two months after she completed physical therapy, Moore competed in the Hairy Hundred, a 100-mile ride on the gravel trails of Boone County. She won the female master's division for racers over the age of 40. Her time of 6 hours, 48 minutes was more than an hour faster than her previous best.
"If I have any more worries or questions, I would be excited to come in and talk to Tim some more and use MU Health Care's orthopaedic team as a resource rather than a point of fear," Moore said. "I feel like there's been a transformation. I've been educated in this new approach to riding, and I feel like I can keep making gains. As you get older, you usually don't get faster, but I'm getting faster, which is exciting."