When Ameia Ferguson needed support the most, Wonder Woman was there for her.
In January 2019, Ferguson, a 45-year-old Columbia resident, noticed what was once a small lump on her breast had grown. Following her daughters' advice, Ferguson called her primary care doctor, Shamita Misra, MD, at University of Missouri Health Care. Misra referred Ferguson for a mammogram. 
Ferguson returned to work at MU's College of Veterinary Medicine, hoping for the best. 
"I was anticipating the call, but when she told me, it was still a shock," Ferguson said. "I just cried and told my boss. Everybody hugged me before I went home to compose myself."
Ferguson was diagnosed with stage 2 invasive lobular breast cancer. She began chemotherapy at Ellis Fischel Cancer Center and continued treatment through May. Through it all, an Amazonian princess inspired Ferguson to be strong and brave. 
"Wonder Woman was my strength throughout this battle," Ferguson said. "Although, I would wear different colored wigs for each chemo treatment, I always had Wonder Woman with me in some form - from my socks to T-shirts. My chemo bag was a Wonder Woman bag and I even wore my Wonder Woman cape recovering from surgery."
After chemotherapy, Ferguson needed surgery and opted to have a double mastectomy. Her surgeon, Nicole Nelson, DO, explained the surgery and recovery process.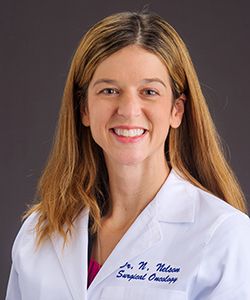 "With a double mastectomy procedure, women have two large incisions that drain for up to three weeks after surgery," said Nelson, who practices at MU Health Care affiliate Columbia Surgical Associates. "There are lifting restrictions, and that can make it hard to push yourself up, making things such as sleeping difficult."
A friend of Ferguson's knew someone who had recently been treated for breast cancer and told Ferguson about the nonprofit The Healing Chair. The organization loans recliners to women who have recently undergone breast cancer surgery, and it delivers and sets up the chair before surgery and provides special support pillows, a blanket and a journal. The chair not only allows patients to sleep in an inclined position, it also raises up and down so patients can get out of the chair without help.
"We like to say it's more than a chair — it's a community of people helping each other," said Michelle Schawo, director of The Healing Chair's Columbia chapter. "When someone is going through breast cancer treatment, you want to do so much to help, and the chair is meeting that practical need of doing something that really makes a difference."
Ferguson had been looking for a chair before her July 12 surgery, so when she heard about The Healing Chair, she immediately requested one. The people who donate funds for the organization to purchase chairs for patients get to name the chairs, and the spirit of the Wonder Woman returned for Ferguson. When Nelson and fellow surgeon Kimberly Suppes, MD, donated the chair, they chose to name it Wonder Woman. When it was time for Ferguson to receive a chair, The Healing Chair made sure to deliver that chair.
"We thought this was pretty fitting for our patients, who are real superheroes," Nelson said. "They go through all of this treatment and are still able to function on a day-to-day basis, take care of their families and do the things that are still very important to them."
The journal has entries from the women who have used the chair. The journal's purpose is to encourage future users.
"The chair lets you know that you aren't alone," Ferguson said. "You can feel the love in the chair, the love from everybody, even people that I don't know."
Schawo, who started The Healing Chair's Columbia chapter in early 2018 with her family, knew there was a need to bring the organization to Columbia. Her cousin was diagnosed with breast cancer and used a chair from the Kansas City branch. 
"There's so much emotional support, especially in the journal," Schawo said. "When we present that to someone, you can see that it's so meaningful to have a message from someone that understands what they're going through. It's encouraging, inspiring and filled with hope."
The Healing Chair's Columbia chapter has served 45 women with eight chairs. Schawo hopes to expand to offer chairs to more mid-Missouri women.
Ferguson knew when it was time to give up Wonder Woman for the next woman who needed inspiration.
"Wonder Woman worked her wonders on me," she said. "Now it's time to work her wonders on somebody else."