When Hartley Wright sits down to write a play, he always starts with a pencil and paper. Computers are fine for polishing up the drafts, but the physical act of writing reminds him that his creativity is a gift that flows through him.
Wright, a 51-year-old father of two from Columbia, usually writes dramas in which the protagonist works through conflict to emerge with a wiser perspective by the time the curtain falls.
"I love the storytelling aspect of it, giving people the opportunity to not necessarily escape their lives but to see the lives of others and let that have an effect on them," said Wright, whose plays have been performed in theaters across the Midwest. "I like to give the audience something to ponder, something to consider. I just have a passion for creating stories that can move and affect people."
Wright's other passion since childhood has been big trucks. He helped put himself and his wife, Kelly, through graduate school by driving an 18-wheeler, and for the past six years he's driven a concrete mixer as a part-time job. He agreed with a coworker's joking assessment that a member of the Dramatists Guild driving a mixer was like a "square peg in a round hole," but he finds satisfaction sitting high above the road and hauling a load.
Looking back, Wright's love of trucks was the small detail in Act 1 that had a major impact in Act 3. Looking forward, the trauma he experienced has given him a new perspective on the rest of his life.
*
On Aug. 5, 2021, Wright was driving a mixer just south of Columbia on Highway 63 when he changed lanes to make room for a vehicle merging into traffic. Concrete mixers are notoriously hard to handle because of their massive weight and high center of gravity, and the sudden lane change caused Wright to lose control. The truck tipped over, throwing Wright onto his left side with tremendous force. No other vehicles were involved.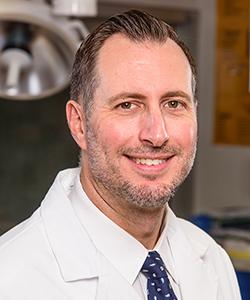 Not long after, surgeon Jeffrey Coughenour, MD, and his colleagues in the trauma department at MU Health Care's University Hospital received a radio call from the EMTs on the scene. The call let them know a patient was on the way and provided general information about his injuries. As mid-Missouri's only Level 1 trauma center, MU Health Care is equipped and staffed to treat the most seriously injured patients.
Wright had two fractured vertebrae in the lower part of his neck and a broken collarbone, but the injuries that needed immediate attention were in his chest. He had an extremely dangerous condition known as flail chest — multiple broken ribs with multiple breaks in each rib — with punctured and bruised lungs. He was struggling to breathe.
Coughenour and his team quickly inserted a breathing tube and connected him to a ventilator. Then they put tubes into his chest to remove the blood and air that were filling his chest cavity.
"I usually describe it as your chest is a suitcase, and your lungs are the clothes inside the suitcase," Coughenour said. "Our job is to make sure there's no extra blood or air in that suitcase so your lungs can fully expand."
Wright didn't need any surgeries to set his broken bones, so after he was stabilized, he was moved to the ICU. That's when Kelly, a faith-and-community specialist at Veterans United Home Loans and a former associate pastor at Woodcrest Chapel, finally got the chance to see her husband.
They had met on a school bus in Sedalia as middle school students — "he was charming, even as an eighth-grader," she recalled — started dating seriously in high school and got married in 1993. Although he was connected to multiple machines and heavily sedated, he gave her a sign the old Hartley was still inside.
"When I first went in the room, I said, 'Hey, Sweetie, I'm here,'" Kelly said. "He opened his eyes."
*
For the first six days of what was expected to be a months-long stay in the hospital, Wright slowly healed and stabilized. On the seventh day, he began to exceed all expectations. He was able to stand without help, and when Kelly spoke to him, he started to understand why he was in the hospital. Two days later, he breathed on his own for more than seven hours.
"The doctors and nurses were using words like 'remarkable' and 'unheard of,'" Kelly said. "So much of his recovery was because of prayer and God's healing, but also it was his positive attitude of just getting through it."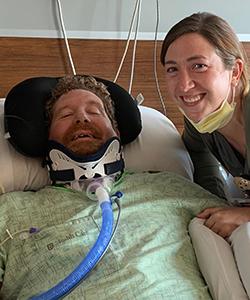 After just 13 days in the ICU, Wright came off the ventilator and moved to a step-down unit. On the way out of the ICU, he posed for a photo with nurse Haley Hallford, RN, whom Kelly considers "part of our family" after all she did to help her husband and comfort her.
Wright spent a total of 20 days at University Hospital and another seven receiving inpatient therapy at Rusk Rehabilitation Hospital, an affiliation of Encompass Health and MU Health Care. He is now home and is well on his way to a full recovery.
Rather than dwell on the accident, Wright has focused on how lucky he is to be alive. He's grateful for the doctors, nurses and therapists who showed such expertise and compassion. He's grateful for his family's support, which extends even to his dog, who has rarely left his side since he returned home. And he's grateful for the overwhelming number of prayers and positive messages from his friends.
Now, the show must go on.
"My life has been spared," he said. "How am I going to live differently?"
Wright and his wife have joked that they'll never argue again. He's going to heed her wishes and give up his driving job, which will allow him to spend more time and energy on writing. When he picks up his pencil, he doesn't expect to write a play about his injuries and recovery, but he thinks his experience and insight will seep into his characters as they work through pain to gain a new perspective.
"One thing I thought about continually once I woke up and realized what had happened was that I need to make sure I continue to write and be consistent about that," he said. "There's a lot I have to contribute."
What is a Level 1 Trauma Center?
MU Health Care's Frank L. Mitchell Jr., MD, Trauma Center is the only trauma center in mid-Missouri and one of only six in the state to be certified as Level 1 by the American College of Surgeons (ACS). To meet the criteria for ACS Level 1 certification, MU Health Care has a trauma or general surgeon, anesthesiologist and full operating room staff on site 24 hours a day, and it can quickly summon an orthopaedic surgeon, neurosurgeon, radiologist, plastic surgeon and oral/maxillofacial surgeon.