Because of the COVID-19 pandemic, reducing the spread of respiratory illnesses such as the flu is more important than ever.
The Centers for Disease Control and Prevention has worked with flu vaccine manufacturers to have extra doses of vaccine available this flu season. Experts recommend getting a flu vaccination in September or October, but if you miss that window, you can be vaccinated anytime during flu season, even in January or later. Learn how to get vaccinated.
Christelle Ilboudo, MD, infectious disease expert at MU Health Care, said the best way to protect yourself from the flu, in addition to getting vaccinated, is through masking, physical distancing and good handwashing hygiene.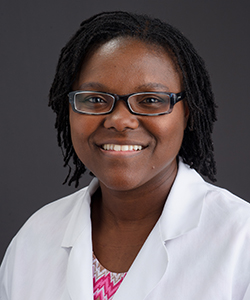 "The public health measures that we're using to protect ourselves and others from COVID-19 are also successful in reducing the spread of influenza," she said. 
Here are three reasons you should get vaccinated:
You can get COVID-19 and the flu at the same time. Ilboudo said one study noted so-called coinfection in 6-15% of hospitalized adults, and these cases tend to have worse symptoms as two different viruses are wreaking havoc on the body. Flu vaccination is especially important for older adults, who are more susceptible to flu and COVID-19.
Getting vaccinated allows your doctors to better diagnose you if you fall ill. Because COVID-19 and influenza share most of the same symptoms, it can be hard to tell the difference based on symptoms alone. However, if you are vaccinated against the flu, then your doctor can make a better diagnosis knowing you are less likely to have the flu. 
"If I know you've had the flu vaccine, then it helps the clinician diagnose you better," Ilboudo said. 
Learn more: Flu, Cold or COVID-19? Consider the Symptoms
Although a flu vaccine will not protect you against COVID-19, it does have other benefits. Flu vaccines have been shown to reduce the risk of flu illness, hospitalization and death. "Historically, people who get the flu vaccine, even if they get the flu, have milder flu," Ilboudo said.
If you are eligible to get a COVID-19 vaccine, you do not need to delay if you recently had or plan to have a flu shot.
In addition to getting a vaccine, you can stay safe by following the same public health precautions advised for avoiding COVID-19.
Practice physical distancing. Stay at least six feet from others.
Mask up. When you must be within six feet of others for more than a few minutes, wear a mask.
Know the symptoms. These can include headache, muscle ache, fatigue and fever. Learn how to distinguish flu, cold and COVID-19 symptoms.
Practice good handwashing. Wash your hands with soap and warm water for at least 20 seconds. If you don't have access to soap and water, use an alcohol-based hand sanitizer with at least 60% alcohol.
Disinfect surfaces and door knobs regularly.
MU Health Care has worked hard to establish ways for people to get vaccinated against flu without increasing their risk of exposure to viruses, including the one that causes COVID-19.