Dermatopathology is the microscopic diagnosis of all skin, hair, nail and mucosal conditions. Our dermatopathologists work closely with dermatologists, family practitioners, internists, plastic surgeons and other physicians to provide expert, accurate diagnosis of skin-related conditions and treatments.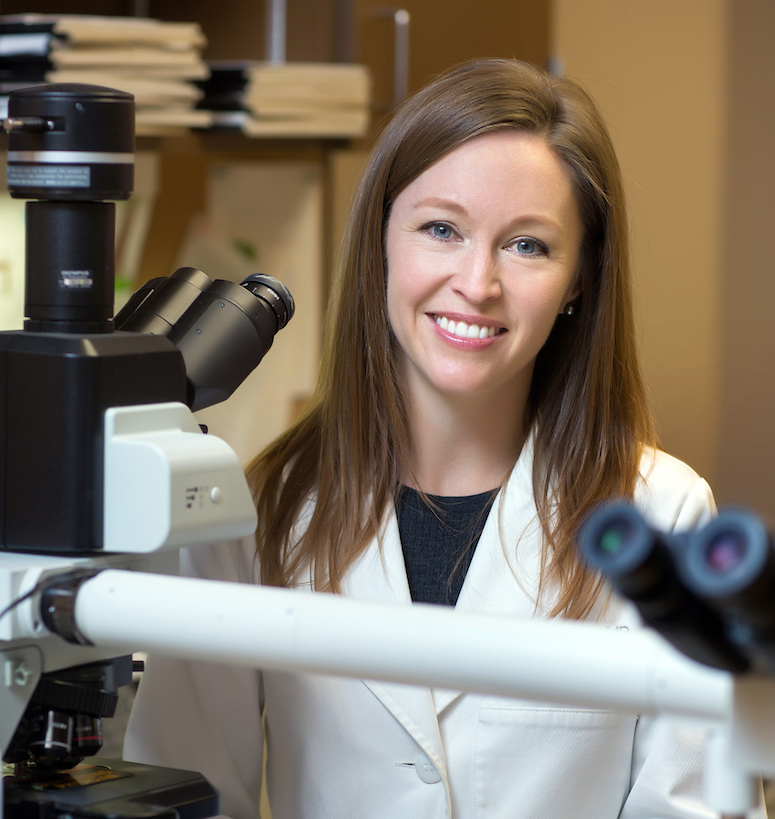 Physicians perform biopsies to remove tissue and send it to a dermatopathology lab for examination under the microscope. University of Missouri Health Care's dermatopathologists review that tissue using microscopic and clinical information to make a diagnosis.
The findings are sent back to the referring provider, who will use it to determine the most appropriate treatment.
Services for referring providers
Our board-certified and fellowship-trained physicians specialize in clinical dermatology and dermatopathology, making them uniquely qualified to integrate both the clinical and pathologic information for accurate diagnoses. Clinical photographs are appreciated and encouraged. Our services include:
Processing of routine (formalin-fixed) specimens
Analysis of nail and hair (alopecia) specimens
Comprehensive immunohistochemical and histochemical stain menu performed in-house for faster turnaround times.
Staged excisions (slow Mohs) specimens
Diagnostic consultation on referred material
Peer review for all melanomas and complex cases
Direct immunofluorescence testing
Molecular T- and B-cell clonality assays (send-out test to reference laboratory at referring physician's request)
Review of clinical photographs
Informative reporting format
Direct line of communication with dermatopathologists
Comprehensive chart review available for systems with integrated electronic medical records
Accreditation
The dermatopathology lab at MU Health Care is accredited by the Clinical Laboratory Improvement Amendments (CLIA) as well as the College of American Pathologists (CAP). To earn our CAP accreditation, we've met not only the industry standards of CLIA accreditation, but offer the highest quality of services available through CAP regulations. It's just one way we continue to offer patients in mid-Missouri the best care possible.
Results
Our team provides a detailed pathological and immunodiagnostic report that can be delivered via electronic medical record (EMR) interface, fax, courier or mail.
Turnaround times are typically 24-48 hours from time of receipt for routine diagnostic cases. Complicated cases requiring additional immunohistochemical and special stains might take longer.
Insurance and billing
This is not a patient clinic, and patients should request a report from MU Health Care's Medical Records at 573-882-3170. We are contracted with most insurance groups, and we accept Medicare, Medicaid and most private insurance plans.
If you are not currently networked with MU Health Care or Cerner, please submit a copy of your patient's insurance with the pathology requisition. We will bill your patients' insurance directly and utilize global billing, which combines both technical and professional fees. Our billing department will inform patients of any fees not covered by their insurance provider.
If you'd like assistance determining if our practice is in-network for a patient's insurance plan, please call 573-882-2949.