Our laboratory team brings more than 75 years of combined experience and dedicated excellence in histopathology. Our lab is Clinical Laboratory Improvement Amendments (CLIA) and College of American Pathologist (CAP) certified.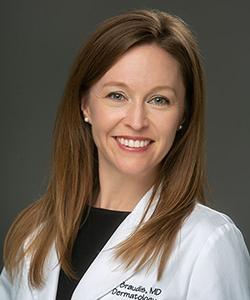 Kara Braudis, MD, a board-certified dermatologist and dermatopathologist, is the dermatopathology lab director. Dr. Braudis completed medical school and residency at the University of Missouri and trained in dermatopathology at the University of California-San Francisco. In addition to routine analysis of skin biopsies, Dr. Braudis maintains time in clinic, with a special interest in complex medical dermatology, rheumatology-dermatology multidisciplinary care and psoriasis. She sees patients of all ages and enjoys teaching both dermatology and pathology residents.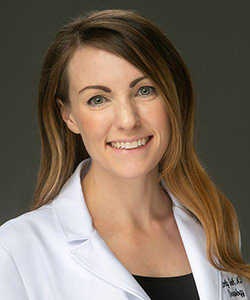 Emily Smith, MD, is a board-certified dermatologist with subspecialty board-certification in dermatopathology. She obtained her medical degree from the University of Missouri and subsequently completed her dermatology residency and dermatopathology fellowship at the University of Michigan. Dr. Smith's clinical and research interests include melanoma and cutaneous oncology, supportive oncodermatology, and general medical dermatology. In addition to her time in the dermatopathology laboratory, she also sees patients and teaches residents at Ellis Fischel Cancer Center where she oversees the multidisciplinary Cutaneous Oncology clinic.
Meet our staff
Cherie Chapman, lab manager
Cherie has been the laboratory manager at the dermatopathology laboratory since 2012. She graduated from the University of Missouri Clinical Laboratory Sciences Histology Program and is certified by the American Society for Clinical Pathology (ASCP). She previously worked for 27 years as the laboratory supervisor at the University of Missouri Veterinary Medical Diagnostic Laboratory and is an active member of the Missouri Histology Society and the National Histology Society.
Jackey Garvey, histotechnologist
Jackie graduated from St. John's School of Histologic Technique in Springfield, Illinois and is certified by ASCP. She has worked in the histology field for over 25 years.
Alene Hiles, histotechnologist
Alene is ASCP certified and has worked in histology since 2009 as a student beginning her career at the University of Missouri Veterinary Medical Diagnostic Laboratory. She then transferred to MU Health Care's dermatopathology lab in 2015. She has her bachelor's degree in animal science from the University of Missouri.
Caleb Heether, histotechnologist
Caleb graduated from Columbia College in 2014 with a bachelors in biology. Started working in the dermatopathology lab as a Mohs technician in 2015 and became a certified Histology technician in 2016.
Amity Walter, histotechnologist
Amity is ASCP certified and began working at MU Health Care in 2019. She is a 2018 graduate of Stephens College and earned her bachelor's degree in biology.