Richard J. Barohn, MD, has joined University of Missouri as executive vice chancellor for health affairs. He will develop and implement a comprehensive strategy that affirms MU Health Care as a nationally recognized leader in patient care and continues the MU School of Medicine's legacy of education and scholarly excellence.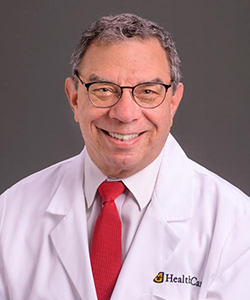 Executive vice chancellor for health affairs is a dual appointment that reports to the University of Missouri System president and University of Missouri chancellor. Barohn was hired after a national search.
Barohn is a faculty member in the Department of Neurology, and a practicing neurologist specializing in neurological and neuromuscular diseases.
Prior to coming to MU, Barohn was chair of the Department of Neurology for 16 years at the University of Kansas Medical Center and has served as vice chancellor for research and president of the Research Institute since 2014. He also serves at the director of Frontiers: University of Kansas Clinical and Translational Science Institute.
"Dr. Barohn's commitment to excellence will establish MU Health Care as one of the preeminent health care systems in the Midwest," UM System President Mun Choi said. "Having partnered with hospitals and community organizations, faculty and staff, Barohn is a nationally recognized leader in patient care."
Barohn expanded clinical and translational research throughout the Midwest region during his time as vice chancellor for research at KU. He developed infrastructure tools for faculty to assist them in accomplishing research goals. This was in large part through obtaining an NIH Clinical Translational Research Award that provides more than $5 million annually to stimulate research.
Barohn also continues to be involved in many of his own research studies for rare neuromuscular disorders, such as forms of muscular dystrophy and amyotrophic lateral sclerosis, also known as Lou Gehrig's disease. He will be moving one of his multicenter federally funded therapeutic trials to MU.
Barohn earned a medical degree from the University of Missouri-Kansas City in 1980. He completed his residency in neurology at the Wilford Hall U.S. Air Force Medical Center in San Antonio, Texas, as well as a fellowship training in neuromuscular diseases at The Ohio State University.
"This opportunity is a dream of a lifetime; I'm going back to my home state, my home university and working to advance health care and medical education in the state of Missouri," Barohn said. "I am looking forward to working with all the MU leaders, including MU Health Care CEO Jonathan Curtright, School of Medicine Dean Steve Zweig and Provost Latha Ramchand. This is an incredibly exciting time to be joining Mizzou, especially with all the recent progress on the NextGen Precision Health Institute. We are poised to become national leaders in this and particularly in precision medicine."
Barohn received the UMKC School of Medicine Alumni Achievement Award. A retired Lieutenant Colonel of the U.S. Air Force, Barohn was appointed University Distinguished Professor at KU in 2013. In 2018, he was elected to the Association of American Physicians.
This announcement originally appeared on umsystem.edu.