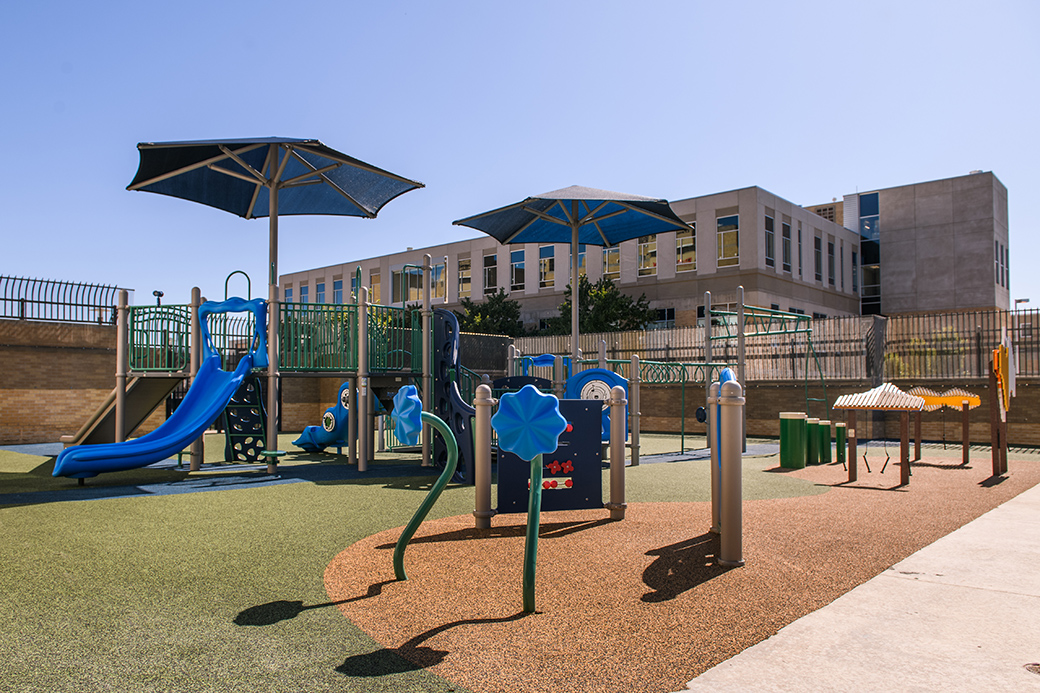 University of Missouri Health Care's Missouri Psychiatric Center today unveiled a renovated 4,380-square-foot outdoor activity center to promote patient wellness. 
"At MU Health Care, we treat the whole person," said Mary Beck, RN, DNP, MU Health Care's chief nursing officer. "Our patients deserve a beautiful, inclusive place to get fresh air, move their bodies and help them heal. This space has been renovated with that in mind."
As the area's leading mental health care facility, the Missouri Psychiatric Center has experienced enormous growth in its 10 years. The center has expanded to include 61 beds serving pre-adolescents, adolescents and adults. 
"It is important that we continue to offer innovative therapies for our patients," said Beth Orns, patient and family support services manager at the Missouri Psychiatric Center. "This space incorporates all of the elements of wellness and normalizes the hospital experience for our psychiatric patients. We are proud to be one of only a handful of facilities in the United States that offers an outdoor therapeutic space like this."
The outdoor space was originally part of the Mid Missouri Mental Health Center and few updates had been made since MU Health Care took over the space 10 years ago. In 2018, employees formed a committee to brainstorm ways to enhance the outdoor area's offerings and make it more accessible and fun for patients. 
"Throughout the day, you'll find patients using the outdoor activity center for activities such as journaling, exercise and discussion groups," Orns said. "This outdoor space serves as an addition to the other types of therapy we offer. It is all focused to improve our patients' wellbeing." 
The team spent nearly three months researching and designing the new space, and construction began in spring of 2019. 
The outdoor activity center is available to psychiatric center patients during their stay and is designed to be a sensory experience — incorporating different colors, sounds, textures and smells. It features adaptive swings, musical chimes, a covered seating area and an accessible playground. 
"The safety of our patients is our top priority," Beck said. "All of the equipment and surfacing — even down to the non-toxic landscaping — have been selected so patients of all ages and abilities can enjoy the space."
PlayCore has recognized the outdoor activity center as an Inclusion National Demonstration Site™ for excellence in providing a playground that addresses the physical and social inclusion of people of all ages and abilities. The space was also awarded the PlayOn! Promoting Physical Activity National Demonstration Site™ Award for excellence in promoting physical activity and fitness through active play.
Groups have already begun using the outdoor activity center, as weather permits. 
"Our patients are loving it," Orns said. "You can see it on their faces when they come back inside. They are happier and calmer. In addition to improving their stay, we hope this space gives them inspiration for how to cope and manage their feelings when they go back into their community."
Renovations for the $250,000 outdoor activity center were funded by MU Health Care Auxiliary, Veterans United and the Columbia-Jeff City Extra Life Guild.