University of Missouri Health Care today unveiled a 16,964-square-foot expansion and renovation of University Hospital's emergency department to meet growing patient volumes.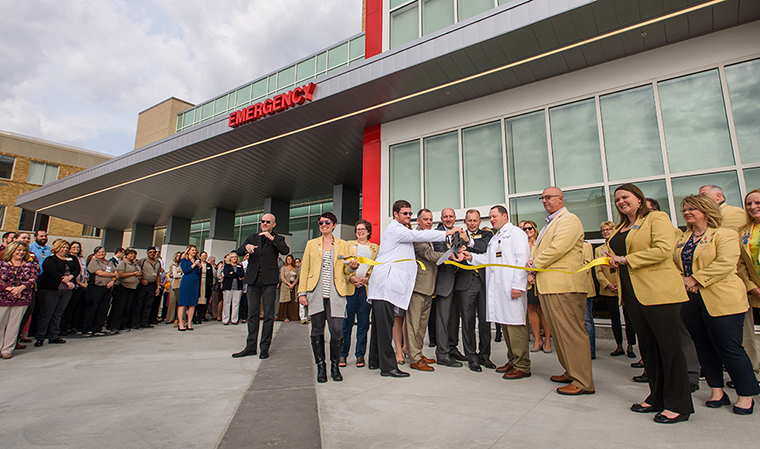 "We've seen steady growth in our emergency department patient volumes at University Hospital during the past five years, with a 28.3 percent increase from 2013 to 2017," said Jonathan Curtright, chief executive officer of MU Health Care. "We are on track to provide emergency care to more than 50,000 patients in 2018. Our ER expansion and renovation at University Hospital provides needed space for treating patients with the most serious illnesses and injuries."
Patients should continue to access the ER using the temporary entrance through the Missouri Psychiatric Center entrance off Deans Drive, across from the Tiger Avenue Parking Structure. Parking will still be available in the TAPS garage across the street from the temporary ER entrance. The new front entrance is expected to open for patient care in mid-November.
Some of the features patients will find in the new ER include:
18 additional exam rooms for a total of 38 exam rooms and four trauma exam bays
10 new fast-track exam rooms for patients with non-life-threatening injuries/illnesses
One additional triage area for a total of 2 triage areas
"We now have ten fast-track exam rooms that will help us continue to shorten patient wait times," said Matthew Robinson, MD, chair of the Department of Emergency Medicine at MU Health Care. "We shortened patient wait times from 18 minutes in April 2016 to 11 minutes in April 2017, even with our significant growth in patient volumes. We'll use our new fast-track rooms to quickly treat patients with less-critical injuries, like needing stitches or a broken bone set. This group of our patients will be able to see a doctor even faster because these exam rooms are dedicated to their care. Our ultimate goal is to make our ER waiting room completely unnecessary due to our ability to offer comprehensive emergency care in a timely manner to all patients at all times."
The expanded emergency department also includes the Frank L. Mitchell Jr., M.D., Trauma Center, the only American College of Surgeons (ACS)-verified Level I Trauma Center in central Missouri.
University Hospital opened in 1957 and built its emergency care facility in 2002. The original ER was 14,399 square feet. This project added 12,908 square feet, bringing the ER the total size to 27,307 square feet.
This ER renovation and expansion is phase one of a larger, ongoing University Hospital renovation project. Phases two and three will include a 5,108-square-foot addition and the renovation of 11,355 square feet of space to add 24 new inpatient rooms for adults with medical and behavioral issues.
Another 5,108 square feet will be added to the second floor of University Hospital for mechanical equipment including an air handler, electrical room and shelled space for future expansion. The $22.6 million, multi-phase project is expected to be complete in summer 2019.