Early in his career as a coach at New Franklin High School, Ross Dowell didn't have access to an athletic trainer for his players, so he did the best he could on his own. Dowell said he had a perfect record diagnosing broken bones with a tuning fork — a trick he learned as an undergraduate student — but he was glad to leave medical care to the professionals when MU Health Care began offering the services of athletic trainers to his school for free.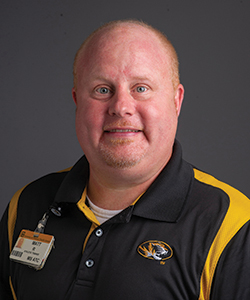 Matt Rowlett and Rick Sage, certified athletic trainers who work at the Mizzou Physical Therapy and Sports Medicine clinic in Boonville, spend time each week tending to athletes at eight small high schools in the area.
"I was relying on what I learned from two or three classes I had in college 20-some years ago," said Dowell, who is now the athletic director and head softball coach at New Franklin. "Having a trainer stop by once a week — and Rick sometimes coming by on his way home to look at a kid — my gosh, it's changed everything for us here. It's tough for a school this size to be able to pay for an athletic trainer, so this is very valuable."
Rowlett started working at the Boonville clinic in 2010. He serves the schools in Bunceton, Jamestown, Prairie Home and Tipton. Sage was hired in 2017, and he covers Fayette, Glasgow, New Franklin and Pilot Grove.
"We are very appreciative of MU Health Care allowing us to go out into the communities where we live to help them with their student-athletes' needs," Sage said.
When athletes get hurt in practice or games, trainers can diagnose the injury. If it's something relatively minor, such as a sprain or strain, they can treat the injury on the spot and create a recovery plan. If the injury is more serious, trainers can refer the athlete to a physician. Rowlett and Sage also teach their schools' staff members to perform first aid and CPR.
"I really enjoy helping kids out," Rowlett said. "We go out to primarily rural high schools, and these are kids that might not have access to seeing a physician. They can come see us at the high school, and we can look at their injury and help them get through it."
Rowlett and Sage usually spend two to three hours per week at each school in addition to their work in the clinic. Tipton and Fayette are the only schools of the group that play football, so the trainers spend their fall Friday nights on the sidelines of those games. They both live near their schools — Rowlett in Boonville and Sage in Fayette — and they have developed tight bonds with the coaches, so they rarely say no if an athlete needs attention at odd hours.
"My coaches have called me at 11 at night and said, 'We're pulling into town. Would you mind taking a look at so-and-so?' I'll do it," Sage said. "We're there to help the athletes any way we can."
Learn more about the MU Health Care sports medicine program's rehabilitation and performance offerings.