In April 2016, Jack Stiefvater arrived at a visit with MU Health Care cancer surgeon Eric Kimchi, MD, assuming the small lump near his hip was just an "angry lymph node" and not a sign of something more sinister in his body.
"Dr. Kimchi was looking at the form from the biopsy, and I sensed that he changed," Stiefvater said. "He said, 'Just a second,' and came back in with two or three other people. I knew something was up."
A lump in the lymph node region of his hip had tested positive for melanoma, an aggressive form of skin cancer that often spreads to other parts of the body. He had lesions on his lungs and kidneys. If the disease wasn't successfully treated, he could expect to live about 18 more months.
Stiefvater doesn't remember much else that was said in the meeting. Afterward, he was in such a fog, he couldn't find his car in the parking garage.
Stiefvater thought back to his childhood on a farm in northern Wisconsin, his teenage years working construction and his time in the U.S. Army as a cadre at Fort Sill in Oklahoma — in each case, if it was summertime, he probably wasn't wearing a shirt — and his lifelong love of the beach. All that exposure to the sun, he thought, had finally caught up to him.
"The worst part was from diagnosis until I got treatment," he said. "You sit there and think, 'This is growing inside me.' "
At his lowest moments, Stiefvater drew strength from his wife, Judy, whom he described as his "rock." She accompanied him to medical appointments and asked all the right questions. She kept him positive at home.
Even Stiefvater's Old English sheepdog, Maggie, sensed something was wrong and gave him comfort.
A month after his diagnosis, Stiefvater was placed in a clinical trial that used targeted therapy — so named because it targets a mutation called BRAF, a protein deficiency that fuels tumor growth in about half of melanoma patients. He took a combination of two pills each day for a month.
At his next appointment, the doctor again did a double take, this time when his scans showed no signs of tumors. A call was placed to the radiology lab to make sure this was indeed Stiefvater's chart.
"He says, 'There's nothing there,' " Stiefvater recalled. "The whole staff gave a war whoop."
Stiefvater and his wife celebrated with a trip to Jamaica.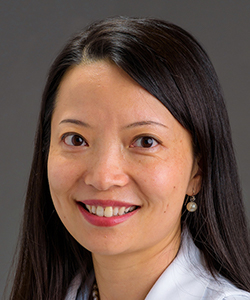 The targeted therapy probably saved Stiefvater's life, but it also took a toll. The medication caused such profound fatigue that he often would doze off within a few minutes of sitting down, and he didn't feel as mentally sharp as before. In December 2017, another serious side effect emerged. His heart's ejection fraction — the percentage of blood pumped out of the heart with each contraction — diminished, putting him at risk for heart failure.
His oncologist, Kan Huang, MD, PhD, recommended switching to a different treatment for his melanoma: immunotherapy.
The next big thing
Kevin Staveley-O'Carroll, MD, PhD, MBA, chair of surgery and director of MU Health Care's Ellis Fischel Cancer Center, was an early convert to the idea of fighting cancer with the body's natural defense system. He began his research on immunotherapy 25 years ago, when it was not widely accepted as a potential cancer treatment.
Our body's T cells are constantly attacking foreign invaders. They sometimes meet their match with a mutated cell that not only escapes detection, it also turns off the checkpoint switch that should sound the alarm for an immune system attack. The immune system is tricked into allowing the cell to reproduce and cancerous tumors to grow and spread. Immunotherapy aims to alert the immune system to the cancer so it can fight back.
Two T cell checkpoints, PD-1 and CTLA-4, have been identified as culprits in cancer growth. Immunotherapy drugs inhibit the checkpoints, releasing the brakes on the immune system to attack the cancer cells.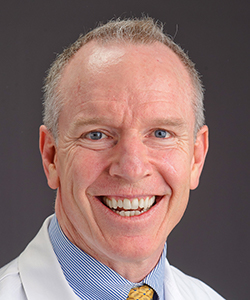 "Sometimes things that never responded at all to other therapies will have dramatic responses to immunotherapy," Staveley-O'Carroll said. "In some ways, it is a little miraculous. But it doesn't work on everyone. We've got to learn a few things. We've got to learn how to integrate it with all the other therapies. We've got to learn when is it going to work. And with immunotherapy, sometimes we get great responses, but then sometimes it will work for a while and then stop, like many of our other therapies.
"The most important thing is getting a memory immune response. If you get certain viral infections, you develop an immune response, and you're immune to them forever. If you can get that kind of immune response, you're cured of cancer."
Huang said MU Health Care currently uses immunotherapy to treat advanced-stage melanoma, lung cancer, kidney cancer and some gastrointestinal cancers in cases in which surgery is not an effective option. The list of cancers with FDA-approved immunotherapies is expanding every year. Staveley-O'Carroll said cancers with a lot of mutations or a dominant antigen — a foreign protein recognizable to the immune system — have responded best.
Immunotherapy is still young as a widely accepted treatment — Keytruda, one of the most frequently used brand-name immunotherapy drugs, was FDA-approved to treat melanoma in 2014 — but much of the brain power in cancer research is now focused on activating the immune system.
"If there is a way to really cure all cancers, the immune system is the key," Staveley-O'Carroll said. "It's likely to be enormously important in all cancers. You can study little pathways in your cancer of choice, but this is a global pathway that is critical in all cancers."
The journey continues
Since December, Stiefvater, 71, has received an intravenous infusion of Keytruda once every three weeks. He said he still feels anxious that his cancer will return and is especially nervous when he goes in for scans. But so far, so good.
Stiefvater is one of the lucky ones.
"We've seen cases where the immunotherapy completely shrinks the tumor to the level it cannot be detected by a regular CT scan. That's what we call complete remission," Huang said. "But the majority of the time, we see what we call partial response. The immunotherapy is able to shrink the tumor down but not completely get rid of it. In this case, it most likely prolongs the patient's life but does not cure patients. We also see what we call stable disease, where the tumor is not growing, not shrinking, just staying the same."
Although usually better tolerated by patients than chemotherapy, immunotherapy can have unpleasant side effects such as fatigue, diarrhea and skin rash. Stiefvater said the only side effect he's experienced is mild fatigue. His heart is back to normal.
"I look at things differently now," he said. "I appreciate looking up at the stars, the kind of things I never thought of before."
Before he retired, Stiefvater worked as a science teacher, corporate trainer and tutor. He still works part-time as a tutor for the MU athletic department. He and Judy love to travel, particularly enjoying European river cruises. They have plans to visit the Christmas markets along the Danube River from Germany to Hungary this year.
Since his melanoma scare, Stiefvater sees the world through new eyes.
"I've lived a full life," he said, "but I don't want to miss anything."