Last October, Eli Beasley gathered with his family for a bonfire in his sister's backyard in Mexico, Missouri. Beasley had flown in from a wildland fire in Oregon to celebrate the life and mourn the untimely death of his 19-year-old cousin. He was asked to light the wood, which had been doused with a combination of fuels — including gasoline — after other relatives couldn't get the fire started.
Beasley, a professional federal wildland firefighter of five years, knew the risks of starting a fire with accelerants. But he didn't foresee the danger brewing.
He lit a match.
Although Beasley can't recall what happened next, he later found out that neighbors called the police because they thought a bomb had exploded. The explosion was so powerful it etched Beasley's silhouette onto the white SUV parked behind him.
"I can remember the sight of how bright it was, and I closed my eyes immediately," said Beasley, 29.
Trying to remain calm and put out the flames, he stopped, dropped and rolled. Suddenly, he could feel his uncle's hands on him and rolled toward them. His uncle used his jacket to try to put out the flames, but the flames disintegrated the coat.
"The only time in this whole experience I had no hope was whenever my uncle quit touching me," Beasley recalled. "He only quit touching me to go get another coat. He ran in, got a Carhartt coat, got a burlap sack and essentially put me out. That was when I took my first breath, and it reassured me that I was going to be alive."
Beasley has told the story of the minute that changed his life countless times in the past year. But he has more to tell.
"That's what everyone wants to hear, but that's just the smallest part of the story," he said. "The story is really about recovery."
Innovative treatment
When Beasley arrived at MU Health Care's Level 1 trauma center, he was burned over 75% of his body — including his face — and the majority of the burns were third-degree, meaning the skin was damaged beyond repair. The trauma team stabilized Beasley, ensured he received enough fluids to keep his organs functioning and inserted a breathing tube.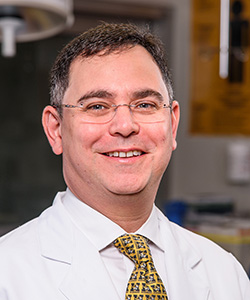 A few days later, Jeffrey Litt, DO, the director of MU Health Care's burn and wound program, gauged the size and depth of the burns to determine next steps. Litt removed a section of healthy skin and sent it to a lab in Massachusetts that created sheets of skin that would be grafted onto Beasley's body. It takes about three weeks to grow those sheets of skin. In the meantime, Beasley received a new spray-on skin treatment on the deepest burns.
Spray-on skin, or ReCell, involves taking a section of healthy skin — an amount that is far smaller than what is needed for a standard graft — and scraping of the healthy skin cells after mixing them with an enzyme solution. The process takes about a half-hour. That mixture is then sprayed on the burn, and a fresh layer of healthy skin starts to grow.
"The biggest downside of burn surgery and skin graft surgery, since we've started doing it decades ago, is that there is no way to do it without creating another wound that the patient needs to heal from," Litt said. "Using spray-on skin dramatically reduces the size of a wound we need to create. You can do it fairly quickly, and it allows us to get wounds to heal up sooner than we otherwise would have."
That procedure was just the beginning. Beasley spent about two months in the hospital and has frequently flown back from Arizona for additional skin grafts. For two months, he couldn't move his right arm. By Beasley's count, Litt performed two dozen surgeries on him in the past year.
"I've never had a surgery before he operated on me, and then after 24 of them, I'm not going to have another one if he's not doing it," Beasley said. "Before I wake up, he calls my wife, talks to her first and lets her know how things went."
The innovative treatment he received at MU Health Care's George D. Peak Memorial Burn and Wound Center was a huge part of his recovery. So was his fighting spirit.
"He is a rare patient indeed," Litt said. "He's motivated to do anything and everything it takes to get normal again. He's enthusiastic both about the possibility of being normal and about the process of getting to normal again. 'I know that this is what it's going to take, so let's just do it because time's a-wasting. He's just enthusiastic about life."
Picking up the pieces
Part of Beasley's motivation to heal was knowing he was going to be a father. His wife, Kerry, was 16 weeks pregnant at the time of his accident. While still critical in the ICU, they celebrated a gender reveal in which they learned they were having a daughter.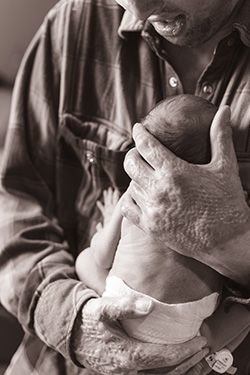 "I can't say that I was incredibly depressed any of the time, but I can see why people contemplate suicide through this," he said. "Because if you woke up in pain every day and you couldn't do anything but numb yourself or be a different person than you wanted to be, I mean, I can understand how it's done."
Beasley was used to physical challenges. He was an all-state football player at Centralia High School, served in the Marines — including a tour in Afghanistan — and worked construction in addition to his duties as a federal firefighter.
After his wounds healed, he began physical and occupational therapy workouts five days a week in Arizona. Gradually, he returned to his favorite activities. He went snowboarding in January, only weeks after his inpatient rehab discharge. He went on his first run with his pit bull, Daisy, in March. He ticked off little victories, like beating a friend in a game of billiards.
In March 2019, he and his wife welcomed their daughter, Ellie. Beasley couldn't pick her up at the time because he had partial paralysis of his right arm. Now, to calm her down, he pulls out his guitar and plays it for her. He said it is good therapy for his hands, and even better for Ellie.
His recovery is ongoing, and he is optimistic about his future.
"It's like you have to wake up every day and choose to pick up the pieces of your old life, or try to find as much of who you used to be and merge that with who you're going to be for the rest of your life," he said. "So it's always trying to find out who you used to be, who you can still become, how much you can still grow."