Jim Flink loves teaching.
A professor at the University of Missouri School of Journalism and a former reporter and TV news anchor in Kansas City, Flink is a Type A guy with a passion for helping young people.
But rather than in front of a whiteboard, on a Friday in September of 2019, the 58-year-old Flink found himself in an unusual position: on his back in the University Hospital emergency room.
Less than an hour before, Flink had experienced a bout of vertigo walking to his office in between meetings. He resisted the urge to shut the door and put his head down. Instead, he asked a fellow professor to drive him to the University Hospital ER, and to call his wife Jamie to let her know something was going on.
"Everything was on its side like a fun house," Flink said. "As much as you want to think you're in control, in that situation, I had this feeling of a complete lack of control."
He had suffered an acute ischemic stroke, which means blood flow in part of his brain was cut off by a clot. When a person suffers a stroke, time is critical. The longer brain matter goes without oxygen and nutrients, the greater the chance of brain damage and disability. Though Flink was in a terrible position, he was in the right place at the right time.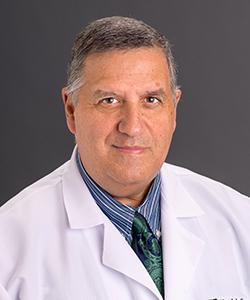 Camilo Gomez, MD, a vascular and interventional neurologist at MU Health Care, was on call that day and making rounds with a group of medical students when he received an alert that there was a potential stroke patient in the ER.
Gomez rushed to the bedside, and the 20 or so students following him were about Flink's average class size. Flink knew Gomez was about to deliver a lesson and that he was the subject.
"I almost started laughing, because I know what it's like to be him," Flink said. "I would be doing the same thing, and I found humor in that moment. I thought, 'What a great opportunity. They're really going to learn something today.' The teaching half of my brain was still working, or it wasn't, and the humorous side was."
As mid-Missouri's only Level I Comprehensive Stroke Center, doctors like Gomez are on call 24/7 to act quickly in the event of a stroke. Gomez was at Flink's bedside immediately and helped minimize the stroke's impact.
"We came, saw him, and within a few seconds we knew it was stroke," Gomez said. "It didn't take very long. And we have new ways to treat patients who have a stroke that are very early, urgent, decisive and aggressive, which can minimize the damage."
Because of Jim's symptoms, Gomez told the Flinks he recommended administering tPA (tissue plasminogen activator), a protein that the body produces naturally to break down blood clots. tPA can also be deadly because in some cases it causes hemorrhagic bleeding, but Gomez, and the Flinks, felt the benefits outweighed the risks.
"Our job in an emergency setting is to reduce the amount of injured brain tissue," Gomez said. "Because of the type and location of his stroke, and how quickly he showed up, Jim is essentially the poster child for why early action is paramount."
The easiest way to identify the start of a stroke, according to Gomez, is to recognize the sudden appearance of neurologic symptoms such as loss of speech or motor function. And once you notice the symptoms, the best thing to do is call 911.
Quick action meant Flink missed just a week of work while being monitored in the hospital, and then completed six weeks of occupational therapy at Rusk Rehabilitation Hospital, an affiliate of Encompass Health and MU Health Care.
"I don't think people recognize how quickly things turn," Flink said. "In that moment, life went from every day the things that you do, to it could have been over just like that. And that's just a weird feeling."
Flink went through six weeks of occupational therapy, and he said going through recovery with his wife helped him de-stress and realize what's important to him.
He also reflected on how having a friend who had a stroke at a young age 15 years ago convinced Flink he wasn't overreacting. Now he's back to spending time with his wife, supporting his kids on their college journeys, and yes, still teaching. Eight classes, in fact.
"Every decision I made that day was the right one, given the circumstances, which is pretty fortunate," Flink said. "And then the people here, all the personnel and Dr. Gomez, saved my life. That's pretty big."