If you or a loved one has a rare or chronic condition that requires treatments that aren't stocked by a retail pharmacy, University of Missouri Health Care's specialty pharmacies can get you the medications you need at the best possible price.
There's a reason our most recent patient satisfaction score was 96. Unlike national online pharmacies, Mizzou Pharmacy has local pharmacists and patient medication liaisons here to serve you. They can answer your questions and work with your doctors and insurance company to take the stress and guesswork out of managing your prescriptions. We can deliver the medication to your home or office, in many cases on the same day we receiver the order. View our welcome packet.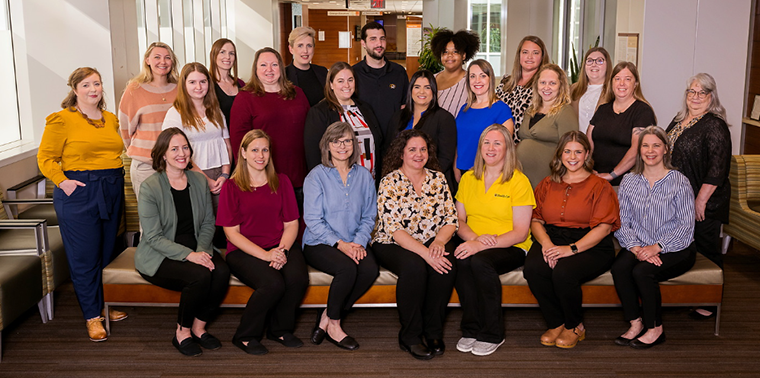 Getting started
Once your doctor or nurse practitioner sends a prescription to Mizzou Pharmacy, our team will get to work. A member of our pharmacy team will contact you and offer enrollment in our free personalized specialty pharmacy services program. This program has been designed to improve your health through education and compassion, and it includes monthly refill reminder calls. You may contact us at any time to be removed from this service.
Patient medication liaison
Your personal patient medication liaison (PML) has direct access to your doctors, nurses, pharmacists and other health care team members. Your PML is a friendly, knowledgeable resource to help you save time and money on your specialty medications. Your PML will complete any prior authorizations needed by your insurance company and may help lower your out-of-pocket cost through available copay programs, foundations and charitable funds.
Prescription delivery
We can coordinate free, secure prescription delivery to your home or other locations. We include any necessary supplies such as syringes, needles, sharps containers, alcohol swabs, and educational materials at no additional cost. Our average time turnaround time for prescriptions is 1.6 days.
Pharmacist assistance
Our pharmacists want to teach you about your specialty medications and answer questions about your care plan. These services are provided at no additional cost. If you have questions about your medications at any time, you can call either of our specialty pharmacy locations (Mizzou Pharmacy-Ellis Fischel at 573-882-8890 or Mizzou Pharmacy-Old 63 at 573-884-2653). About 98% of calls are answered within 30 seconds. We also have a pharmacist on call 24/7 for urgent clinical questions. You will get a return call within one hour if your call is missed.
Specialty Medications
To see a list of medications available, view our specialty medications list.
If the pharmacy is unable to provide your specialty medication, your PML will work with you to find another pharmacy so you get your medicine. If you would like your prescription transferred to another pharmacy, please contact your PML to arrange the prescription transfer.