Pharmacists play an ever expanding role in your health care today. Your University of Missouri Health Care pharmacist helps you manage your chronic conditions, treat everyday illnesses and understand your medicines.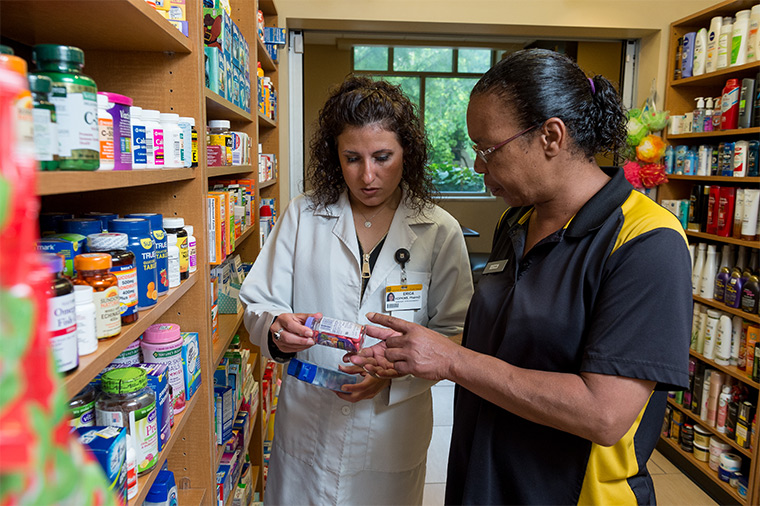 At MU Health Care pharmacies, we focus on increasing patient interaction, education and communication. We provide personalized service that helps you stick to your medicine schedule and properly manage your health.
You can ask your pharmacy about a variety of issues, including:
How to improve your health condition
Medication interactions
Medication side effects
Preventing illnesses
MU Health Care operates the largest chain of pharmacies in Columbia, including three hospital pharmacies and nine outpatient pharmacies. We offer comprehensive pharmacy services, from filling your prescriptions to offering necessities like over-the-counter medicines, medical equipment and health care supplies.
Convenient pharmacy services
MU Health Care pharmacies has also launched a new program for patients who are discharged from University Hospital, Children's Hospital, Women's Hospital or the Missouri Orthopaedic Institute. This program, called Miz RX 2U, provides bedside delivery of medicines before you leave the hospital.
Through this convenient service, you can receive your prescriptions without setting foot outside your room, saving time and a stop on the way home. This program ensures you get your prescription filled and helps make your transition home easier.
If you want bedside delivery, one of your care team members will send an enrollment form, along with the prescriptions, to the pharmacy. The pharmacy will fill your prescriptions, and the pharmacist will call your room to talk to you about the medicine, its potential side effects and answer your questions. The medicines will arrive at your room before you leave the hospital.
The entire prescription ordering process is completed within 60 minutes. Prescriptions can also be fast-tracked for any patients preferring to pick up medications themselves.
In addition to bedside delivery, MU Health Care pharmacies offer 90-day prescription refills and a mail delivery option to making getting your medicines convenient.
The pharmacies also offer a free delivery option for University of Missouri employees. Medications can be delivered to nearly every building on campus, as well as off-campus locations, including Mizzou North and Quarterdeck.
Your pharmacy care team
Getting the right medicine to the right patient is only one aspect of a pharmacist's job. MU Health Care hospital pharmacists are part of a health care team that visits patients each day. Your pharmacist makes recommendations on what medication would best help you and your conditions. As part of the care team, your pharmacist helps teach you, other healthcare providers and physicians in training, about medicines.