Jonathan Curtright, chief executive officer of University of Missouri Health Care, has been named to the Columbia Chamber of Commerce Board of Directors. Curtright will begin a three-year term with the board in July.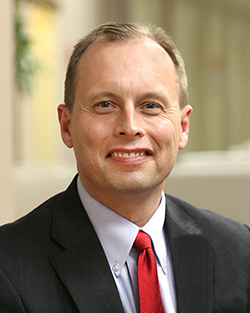 "I'm honored to serve our community as a member of the Columbia Chamber of Commerce Board of Directors," Curtright said. "I'm looking forward to joining fellow board members in helping improve the health and well-being of Columbia citizens."
The mission of the Columbia Chamber of Commerce is to lead the community, drive commerce in the region, and advance community and regional collaborations to enhance the quality of where residents live, learn, work and play.
As chief executive officer of MU Health Care, Curtright is responsible for providing executive leadership and vision for the health system's hospitals, clinics, and ancillary and support services. He is responsible for day-to-day operations at the academic health system, as well as long-term strategy and external goals.
Curtright has more than 20 years of experience in health care leadership. Prior to joining MU, he served as chief operating officer of Indiana University Health, where he led Methodist and University hospitals, the largest academic medical center in the state. He has also served as chief operating officer of University of Kentucky HealthCare in Lexington, Kentucky. Curtright has served as an administrator for various departments at the Mayo Clinic in Rochester, Minnesota.
Curtright holds degrees in economics, finance, health administration and business administration, all from MU.