University of Missouri Interim Chancellor Hank Foley has appointed Jonathan Curtright as interim Chief Executive Officer of University of Missouri Health Care, effective Feb. 25. Curtright also will continue in his duties as Chief Operating Officer.
"As an academic medical center, MU Health Care's mission is to advance the health of all Missourians, and I am confident that Jonathan is committed to that mission," Foley said. "I am deeply impressed by Jonathan's experience at other outstanding academic health centers, and his proximity to major projects and priorities underway at MU Health Care will be important in this role as we begin our search process."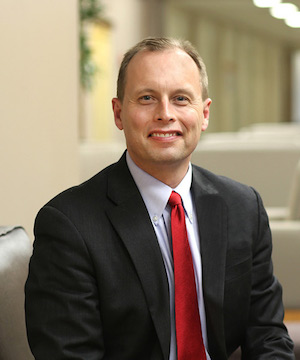 Curtright has more than 20 years of experience in health care leadership. He joined MU Health Care in February 2016 and has been responsible for all acute and ambulatory care operations, as well as achieving short- and long-term clinical and operational goals. Prior to this appointment at MU, he served as COO at Indiana University Health where he led Methodist and University hospitals, the largest academic medical center in the state, as well as COO at University of Kentucky HealthCare in Lexington, Kentucky. He also served as an administrator for various departments at the Mayo Clinic in Rochester, Minnesota, including its cardiovascular services with more than 160 physicians and 700 full-time employees.
Curtright holds degrees in economics, finance, health administration and business administration, all from MU.
"The continuity of stable leadership at MU Health Care is important as our hospitals and clinics continue their upward trajectory of delivering quality health care to Missourians," said Interim President Mike Middleton. "We are thrilled Jonathan has agreed to serve in this capacity on an interim basis."
"I am honored to lead MU Health Care in the foreseeable future," Curtright said. "I look forward to working with other leaders to enhance Columbia's reputation as a destination for excellent health care."
Curtright replaces Mitch Wasden, who announced in December that he will be leaving in February to become the executive vice president and CEO of Oregon Health & Science.
This news release was first published by the Mizzou News Bureau.