University of Missouri Health Care has named Katrina Lambrecht, JD, MBA, chief operating officer.
Lambrecht will be joining the institution on May 9 from Dignity Health's St. Joseph's Hospital and Medical Center in Phoenix where she currently serves as chief operating officer.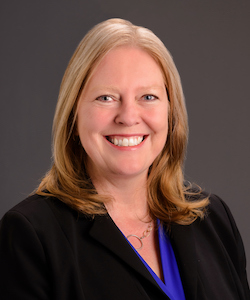 "Katrina will serve as an instrumental member of our executive leadership team," said Jonathan Curtright, MU Health Care's chief executive officer. "As COO, she will oversee day-to-day operations and all professional and support services for our health system. Her extensive leadership experience will help her thrive at MU Health Care."
While at St. Joseph's Hospital and Medical Center, Lambrecht helped launch an OR optimization project to improve safety and adherence to best practices and also oversaw the opening of a surgical specialties clinic and an outpatient heart and vascular clinic. She helped develop a strategic plan to expand the system's cardiovascular service line and add heart transplantation services. Lambrecht's leadership has been critical in beginning construction of a 16-bed inpatient unit to expand inpatient capacity in support of the cardiovascular service line.
Prior to her role with Dignity Health, Lambrecht served for 10 years at University of Texas Medical Branch in Galveston in a variety of leadership roles including vice president positions in health system operations, institutional strategic initiatives and as chief of staff.
Lambrecht earned her MBA, Juris Doctorate and Bachelor of Science in sociology from the University of Wisconsin. Prior to her health care experience, Katrina was a practicing attorney specializing in business and family immigration law.