Since 1962, the third week in March has been designated National Poison Prevention Week. During this year's observance from March 19 through March 25, University of Missouri Children's Hospital and Safe Kids Columbia are raising awareness about accidental poisonings.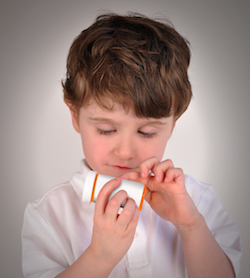 "According to a recent study by Safe Kids Worldwide, more than 59,000 children are treated in emergency departments each year because they gain access to some form of medication when a caregiver isn't looking," said Sheila Robertson, Safe Kids coordinator at MU Children's Hospital. "Other common forms of childhood poisonings include exposure to lead, carbon monoxide and household cleaning supplies."
Robertson said that toddlers are most likely to be treated in an emergency room for medication poisoning.
"Seventy percent of emergency room visits for medication poisonings involve 1- and 2-year-old children," Robertson said. "Toddlers are little explorers and will pick up anything within their reach and put it into their mouths. Parents of toddlers need to be extra attentive not only when storing medications, but also picking them up if they are dropped."
To prevent accidental medication poisonings in children, Robertson suggests that caregivers: 
Check all places where kids may find medications and move them up and out of sight.
Remember to safely store all potentially harmful health products.
Only use the dosing device that comes with the medication.
Save the Poison Help telephone number, 1 (800) 222-1222, in their phone in case of emergency.
Robertson said that many of these same measures can be used to eliminate access to household supplies such as bleach and other cleaners.
Lead exposure is another common form of poisoning that affects children. According to the Missouri Department of Health and Senior Services, at least four million households have children living in them that are exposed to lead. Most of this exposure is the result of objects or areas within the home coated in paint made before 1978.
"Anyone can be at risk of lead poisoning," Robertson said. "However, children under the age of 6 are most affected because they are physically growing. Also, they tend to put their hands or objects that may be contaminated with lead dust from the paint into their mouths."
Robertson says that awareness is key to preventing accidental childhood poisonings.
"Since Safe Kids and industry and government partners started getting the word out to parents about the importance of keeping kids safe, the number of E.R. visits has steadily declined," Robertson said. "However, there are still too many kids being harmed by poisonings, so education needs to continue to be a priority for us all." 
Safe Kids Columbia is a member of Safe Kids Worldwide, a global network of organizations dedicated to preventing unintentional childhood injuries. For more information, visit https://www.muhealth.org/locations/womens-and-childrens/childrens/for-parents/safe-kids.