MU Health Care vaccinated its first front-line health care workers with the Pfizer COVID-19 vaccine early Wednesday morning.
Nearly 3,000 doses of the COVID-19 vaccine arrived Tuesday evening for MU Health Care employees who have direct patient care responsibilities. Dozens of doctors, nurses and other patient-facing health care employees lined up early Wednesday at University Hospital to be among the first in the community to receive the vaccine.
Columbia Mayor Brian Treece kicked off the vaccinations with a proclamation honoring frontline health care workers thanking them for their efforts during the pandemic, declaring the next seven days, "Health Care Worker Appreciation Week."
"Starting this morning, the City of Columbia is literally getting a shot in the arm in our fight against COVID-19," Treece said.
MU Health Care pediatric infectious disease specialist Christelle Ilboudo, MD, was first in line to receive the vaccine from MU Chief Nursing Officer Mary Beck, DNP, RN, shortly after 6 a.m. Wednesday.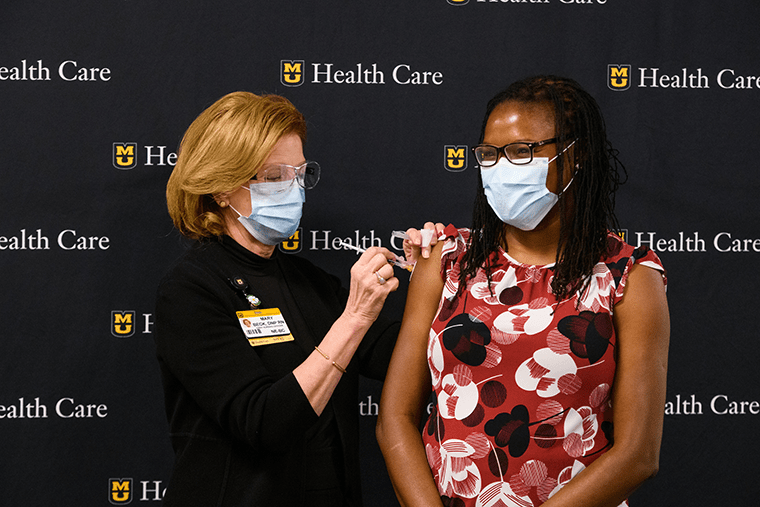 "I am very proud to be the first MU Health Care employee to receive this very important vaccine," Ilboudo said. "I am hopeful this day marks a historic turning point in the fight against this virus. While this vaccine came to market quickly, it has cleared all of the required trials and approval processes, and the results show it is both safe and effective."
Each staff member who elects to receive an initial dose of the vaccine will need a second dose.
The timeline for community vaccinations will depend on the volume and speed of the vaccine shipments. Nursing home residents, caregivers, and those at high risk for COVID-19 complications will be among the first to be offered the vaccine before it becomes available to the public.
"We are very excited to be one of the first institutions in Missouri to offer this newly released vaccine," said Brad Myers, executive director of pharmacy and laboratory services at MU Health Care. "We have been planning for weeks to consider the various logistical issues involved in offering a multi-dose vaccine with stringent storage requirements. As the supply of vaccine increases, additional employees will be eligible for vaccination, and we plan to work with the state to make doses available to the public in the coming months."
For more information regarding the COVID-19 vaccine, visit muhealth.org/covid19-vaccine.