Thirty-four individuals graduated today from the University of Missouri Health Care's workforce development program, the MU Health Care Career Institute.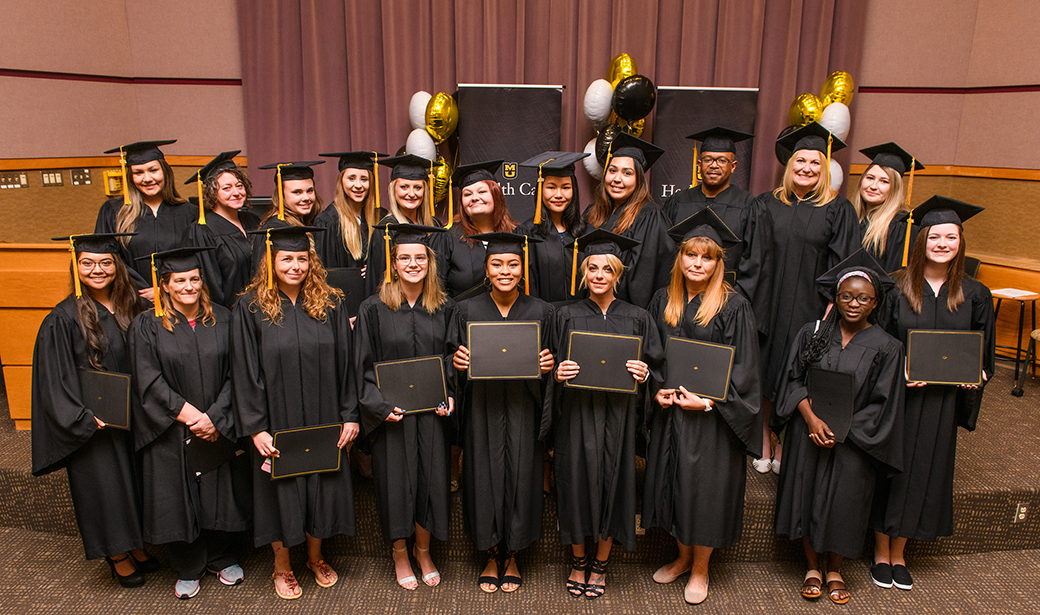 The program pays for MU Health Care employees' schooling and salaries while they study to advance their careers. This year, graduates trained in five different professions: certified medical assistants, certified nursing assistants, certified medical coders, registered nurses and trades professionals. 
"There is a high demand for experienced health care professionals today," said Peter Callan, senior director of talent at MU Health Care. "One of the innovative ways we recruit and retain those professionals is by training our own dedicated staff. We developed our Career Institute to help us identify and train our most promising staff members. When they graduate, they automatically receive a full-time position at MU Health Care in their chosen field."
In addition to growing existing employees, the institute also partners with local organizations to train community members for experienced health care positions. Thanks to a collaboration with Columbia College and Columbia Public Schools, 12 recent high school graduates are celebrating becoming certified medical assistants through the Career Institute. The program is also recognizing two new certified nursing assistants who joined the program through Job Point in Columbia. 
This year, MU Health Care is celebrating the first person in the United States to complete an apprenticeship as a health care facilities improvement technician, as recognized by the Department of Labor. MU Health Care currently has three additional apprentices becoming health care electricians, plumbers and HVAC technicians.
To date, nearly 100 individuals have participated in MU Health Care's Career Institute. 
"We launched the institute three years ago as a way to create career opportunities for our own staff," Callan said. "Today, we have our employees and community members on eight different tracks that will help them enhance their earning potential and have improved careers in health care."
MU Health Care was recently the only organization in Mid-Missouri named to the "150 Top Places to Work in Healthcare" by the health news publication Becker's Hospital Review. The Career Institute is just one of the programs developed by the health system to help grow its employees.