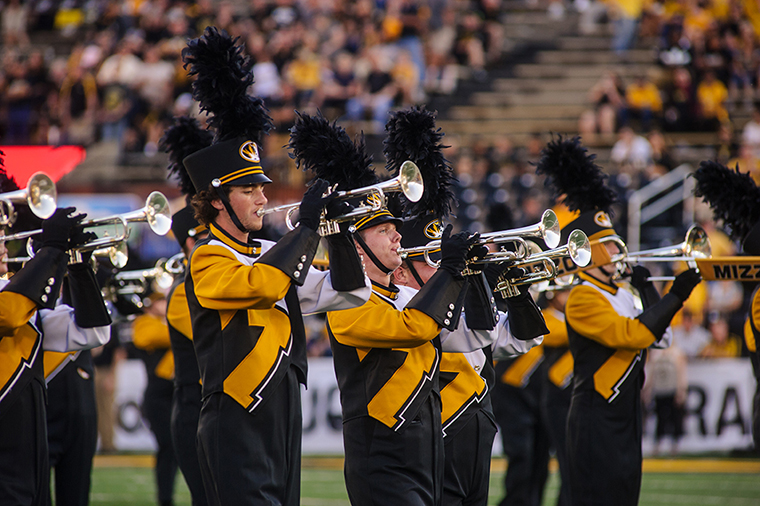 University of Missouri Health Care will contribute $400,000 over the next four years to support the creation of the Marching Mizzou Scholarship Fund. The scholarships will help ensure that Marching Mizzou students have the necessary support to continue their educational and musical endeavors at MU.
MU Health Care will contribute $100,000 annually for the next four academic years to the College of Arts & Science. The scholarships are designed to help improve the retention of upperclassmen in Marching Mizzou, with a priority on students majoring in health care-related fields.
"We're proud to support our campus community with the Marching Mizzou Scholarship Fund," said Jonathan Curtright, chief executive officer of MU Health Care. "We hope that as the official sponsor of Marching Mizzou, even more exceptional students will receive the opportunities and support they need to pursue careers in health care and other vitally important fields."
Marching Mizzou is entering its 133rd season in August. Its more than 250 members represent nearly every college on the MU campus. Marching Mizzou features the Golden Girls, three twirlers, a color guard and more than 200 instrumentalists.
"We cannot thank MU Health Care enough for their generosity, and we look forward to our continued partnership for the next four years and beyond," said Amy Knopps, associate director of bands and director of athletic bands at MU. "Our partnership with MU Health Care will be a critical asset to our program, as the scholarships will not only reward our students for their service to MU, but create a financial pathway so more students have the ability to remain in Marching Mizzou throughout the entirety of their degree programs on campus."
For more information or to donate to the Marching Mizzou Scholarship Fund, visit https://music.missouri.edu/marching-mizzou-scholarship-fund.