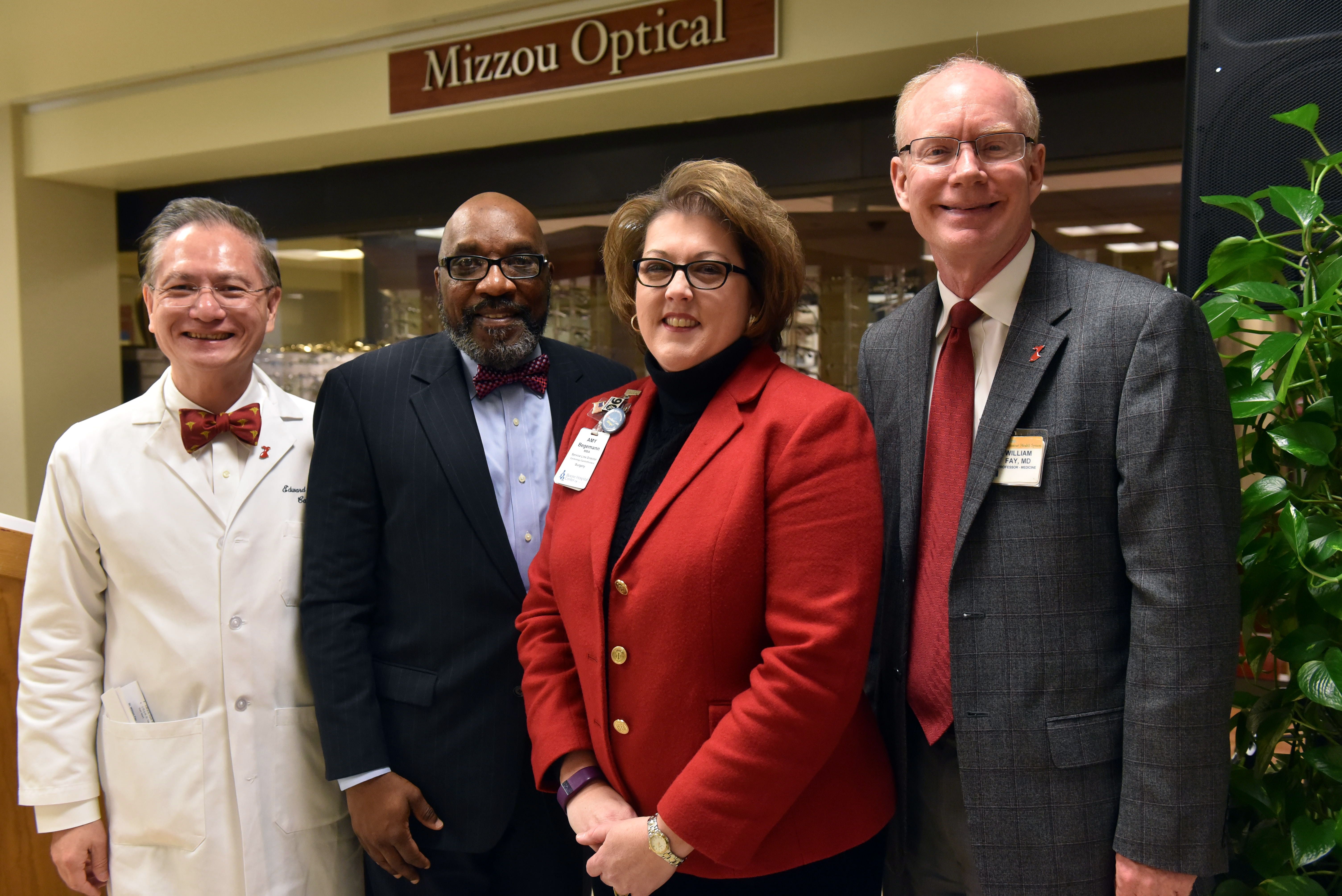 Columbia Mayor Pro Tem Clyde Ruffin officially named February as Columbia's Heart Month at a community-wide mayoral proclamation hosted at University Hospital. At the event, University of Missouri Health Care, Boone Hospital Center and city leaders teamed up to raise awareness about the prevalence of heart disease.
"Cardiovascular disease is the single leading cause of death for both men and women in the United States," said William Fay, MD director of the Division of Cardiovascular Medicine at MU Health Care. "At MU Health Care, our team of cardiovascular specialists works tirelessly to provide innovative, patient-centered care. We combine leading medical treatments like transcatheter aortic valve replacement and new technology like MRI-friendly defibrillators with education and outreach. It's critically important that we know our risk for heart disease and how to prevent it."
Since 1964, the American Heart Association has named February as American Heart Month to increase awareness about heart disease. According to the Centers for Disease Control and Prevention, every 43 seconds someone in the United States has a heart attack. The goal during American Heart Month is to raise awareness about both the risks for developing heart disease and what people can do to help prevent it.
Risk factors such as smoking, high blood pressure, high cholesterol, diabetes, obesity, metabolic syndrome and physical inactivity all contribute to the likelihood of developing heart disease.
"The best ways to protect against those risk factors are not smoking, healthy eating and engaging in routine exercise," said Fay, who is also a professor of medicine and medical pharmacology and physiology and the J.W. & Lois Winifred Stafford Distinguished Chair in Diabetes and Cardiovascular Research at the University of Missouri School of Medicine. "People who make those lifestyle choices will drastically decrease their chances of developing heart disease."
"By proclaiming February as American Heart Month in Columbia, we bring much-needed heart disease awareness," said Clyde Ruffin, Columbia mayor pro tem. "Combating heart disease is imperative for improving the health of everyone in our community. Together, we can work to ensure everyone knows its signs and symptoms and can access needed care."
MU Health Care cardiologists, cardiovascular specialists, cardiovascular researchers and members of Boone Hospital Center's cardiology and cardiothoracic surgery department attended the event. Attendees were asked to wear red to celebrate Go Red for Women Day which is also today, Feb. 3. Go Red for Women Day is traditionally celebrated during American Heart Month where the community is encouraged to wear red to bring attention to the issue of heart disease in women.
For more information on MU Health Care's Heart and Vascular Center, please visit: https://www.muhealth.org/conditions-treatments/heart-vascular.