University of Missouri Health Care has been recognized for the eighth consecutive year as one of the nation's "Most Wired" health systems, according to the 2018 Most Wired survey. The survey results were released Nov. 2 by the College of Healthcare Information Management Executives (CHIME).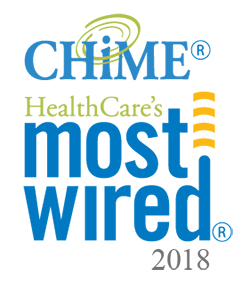 Most Wired hospitals and health systems are determined by the annual Most Wired survey, which recognizes top health care organizations that exemplify best practices through their adoption, implementation and use of information technology. The survey identifies best practices and promotes the strategic use of health care IT to elevate the health and care of communities around the world.
"MU Health Care is dedicated to using technology to improve the patient experience and make health care more accessible and more convenient," said Jonathan Curtright, chief executive officer of MU Health Care. "We're proud to be recognized as a Most Wired health system for eight consecutive years. This recognition symbolizes our commitment to improving the lives of Missourians."
Each year, the Most Wired survey asks leaders of hospitals and health systems nationwide to answer questions regarding their information technology initiatives. Every hospital in the U.S. is invited to participate in the survey. Most Wired hospitals and health systems use technology to engage with patients with their lifestyles in mind. More than 675 health care organizations participated in the 2018 survey.
MU Health Care offers patients a robust app that is integrated with the health system's advanced electronic health record. The app enables patients to manage their health care by scheduling appointments, renewing prescriptions, accessing medical records and securely messaging providers. More than 107,000 patients have created an online portal account to engage in their own health.
"The bar to be a Most Wired health system is raised each year," said Bryan Bliven, chief information officer at MU Health Care and executive director of the Tiger Institute for Health Innovation. "Our goal is to stay at the forefront of technology so we can enrich the lives of our patients and empower them to take control of their health. We're honored to be able to partner with our patients in their health care journey."
MU Health Care recently extended its electronic health record to Lake Regional Health System clinics to ensure patients have a seamless transition regardless of where they receive care. The collaboration with Lake Regional follows an extension of MU Health Care's IT expertise to Capital Region Medical Center in Jefferson City earlier this year. MU Health Care has also recently connected medical records with the U.S. Department of Veterans Affairs and SSM Health through national health exchanges, enabling physicians at different organizations to electronically share and use up-to-date patient medical records.
Click here to learn more about the Most Wired program.