University of Missouri Health Care opened a $40 million, 85,462-square-foot expansion of the Missouri Orthopaedic Institute today, Thursday, Aug. 24.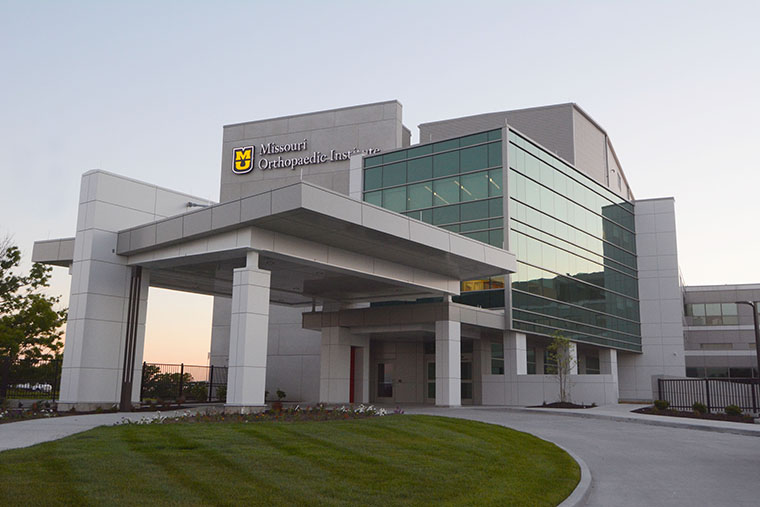 Since the Missouri Orthopaedic Institute opened in 2010, patient volumes have steadily increased. To accommodate the growth, clinical space for surgical, inpatient, outpatient and physical therapy services was added to almost double the original 114,000 square feet to nearly 200,000 square-feet. The expansion began in June 2015.
"Our mission at the Missouri Orthopaedic Institute is to provide exceptional patient care to all who need it, and this expansion means we can help more patients," said James Stannard, M.D., medical director of the Missouri Orthopaedic Institute and the Hansjörg Wyss Distinguished Chair of Orthopaedic Surgery at the MU School of Medicine. "We added operating rooms, private inpatient rooms and X-ray rooms. Patients also can receive specialized treatment for limb-threatening conditions through our new limb-preservation program and restorative care through our new chiropractic service and expanded physical therapy center."
"We are proud that the Missouri Orthopaedic Institute has been so successful," said Jonathan Curtright, CEO of MU Health Care. "Patient visits to the Missouri Orthopaedic Institute grew from 42,819 in fiscal year 2011 to 56,317 in fiscal year 2017."
In addition to clinical care, the expansion's fourth floor houses the Thompson Center for Regenerative Orthopaedics, a facility dedicated to bringing innovative orthopaedic research from the lab to the patient's bedside. The Thompson Center for Regenerative Orthopaedics is the only comprehensive orthopaedic research center housed within a freestanding orthopaedic hospital in the world. In this new space, 37 researchers with expertise in medicine, engineering, anthropology, biomedical studies and veterinary medicine collaborate on scientific studies in orthopaedic medicine. Some examples of their research includes advances in regenerative medicine, early diagnosis and prevention of arthritis, bone health, returning injured athletes to sports, and motion analysis.
"The future of the University of Missouri lies in attracting and retaining top faculty who contribute to research and teaching," said UM System President Mun Choi. "The Thompson Center for Regenerative Orthopaedics at the Missouri Orthopaedic Institute is the perfect example of the type of facility that we need to help us achieve that mission."
"MU is internationally known for our pioneering work at the Mizzou BioJoint® Center using human tissue," said Alexander Cartwright, University of Missouri chancellor. "And the specialists at the Missouri Orthopaedic Institute are among the national leaders in hand, spine, hip, knee and shoulder surgery. In fact, orthopaedics at MU Health Care was recently recognized as high performing by U.S. News and World Report. We are proud of both the clinical and research accomplishments achieved at the Missouri Orthopaedic Institute."
The expansion also contributes to the MU School of Medicine, whose faculty and students will have more space to conduct medical research that will improve the health and quality of life for patients.
"MU Health Care and the MU School of Medicine share the same mission of providing patient- and family-centered care, education and research to residents of Missouri and beyond," said Patrick Delafontaine, M.D., the Hugh E. and Sarah D. Stephenson Dean of the MU School of Medicine. "This new facility furthers our mission and will ultimately have significant positive effects on the health and well-being of people across the state."
The $40 million expansion project includes:
Five additional operating rooms, two fully equipped and operational and three more to be equipped as patient volumes grow (for a total of 12 operating rooms)
Twenty-two additional private inpatient rooms (for a total of 42 private inpatient rooms)
Three additional digital X-ray rooms (for a total of seven digital X-ray rooms)
Nineteen additional outpatient examination rooms, both finished and shelled (70 total exam rooms)
The Thompson Center for Regenerative Orthopaedics
An expanded 6,800-square-foot physical therapy center
A larger, 2,604-square-foot pharmacy
A second-floor bistro offering coffee, smoothies and healthy snacks
The first floor features a 500-square-foot Atrium Café featuring a daily special, pasta bar and selection of entrées and snacks.
As part of the expansion, the main entrance of the Missouri Orthopaedic Institute has been relocated to the east side of the building off Virginia Avenue. It includes a circle drive that improves patient access to the building, and a pedestrian walkway from the orthopaedic hospital to Virginia Avenue Parking Structure No. 7.
The Missouri Orthopaedic Institute, opened in 2010, employs approximately 500 staff, including 35 physicians who specialize in sports medicine, joint replacement, pediatrics, hip and knee, foot and ankle, shoulder, hand, spine, limb preservation, oncology and trauma care. It also offers patients physical therapy and chiropractic care. The Thompson Center for Regenerative Orthopaedics has a team of 37 researchers representing 13 different specialties.
Download high-resolution photos of the building and grand opening event. Password is muhealth.