Aaron Gray, MD, sports medicine physician at University of Missouri Health Care, was recently named medical director of the Human Performance Institute in Columbia.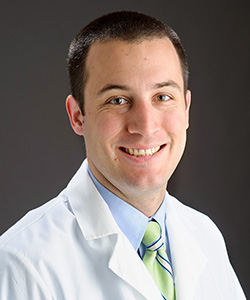 MU Health Care's Human Performance Institute is a comprehensive resource for athletes of all ages and abilities. Part of the Missouri Orthopaedic Institute, it offers programs to help young athletes prepare for competitive sports, while minimizing their risk for injury. It also offers restorative programs like Rocksteady Boxing, an agility and boxing class that helps people with Parkinson's disease maintain an active lifestyle.
"The Human Performance Institute is not only pioneering efforts to enhance performance in athletes in our community, it is also changing clinical outcomes for patients suffering from chronic conditions that include diabetes, cancer and Parkinson's disease," said Brett Hayes, director of the Human Performance Institute. "Having Dr. Gray as our medical director will help facilitate these programs in our community. Additionally, his expertise in pediatric orthopaedics will support our athletic performance programs."
Gray is board-certified in both sports medicine and family medicine. He recently published research on using video game technology to help reduce the risk of sports injuries to the knee in young athletes in Sports Health, a journal published by the American Orthopaedic Society for Sports Medicine.
"I am excited to develop scientifically based programs that will improve the function, strength and agility of athletes and active individuals of all ages," Gray said. "For example, this fall we will offer a Preseason Basketball Performance program for kids and teens. It's a six-week training course that focuses on increasing vertical jump height, agility and speed, while incorporating injury-prevention principles."
Download a high-resolution photo of Aaron Gray, MD. Download password: muhealth