University of Missouri Health Care has been recognized for the seventh consecutive year as one of the nation's "Most Wired" health systems, according to the 2017 Most Wired Survey. The survey results were released today, July 10, by the American Hospital Association. Additionally, MoodTrek™, an integrated mood tracking app developed by MU Health Care and the Tiger Institute for Health Innovation, has received the survey's "Innovator Award."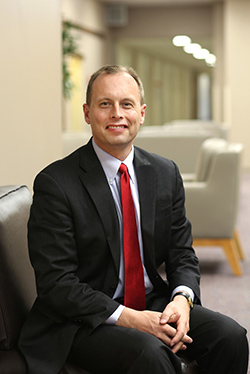 Most Wired hospitals and health systems are determined by the annual Most Wired Survey, which recognizes top hospitals and health systems in the country. Most Wired winners must demonstrate continued progress in the adoption of health information technology specific to the areas of infrastructure, business and administrative management, clinical quality and safety, and clinical integration. To achieve Most Wired designation, hospitals must make continuous advancements in the implementation of new technology.
"Patients are at the heart of who we are, and we believe that our patients deserve the very best in medical technology," said Jonathan Curtright, chief executive officer and chief operating officer of MU Health Care. "Patients want options to receive care how and when they want. That's why we strive to have an electronic medical record that truly serves our patients. We are very proud to have been recognized as a Most Wired health system for seven consecutive years. It means that we truly are putting the needs of our patients first."
Each year, the Most Wired survey asks leaders of hospitals and health systems nationwide to answer questions regarding their information technology initiatives. Every hospital in the U.S. is invited to participate in the survey. Most Wired hospitals and health systems use technology to engage with patients with their lifestyles in mind.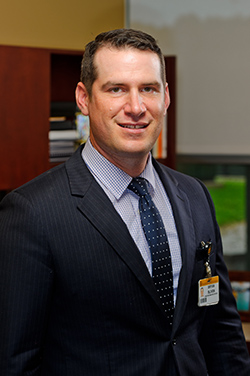 One such solution is the mood tracking app, MoodTrek™, winner of Most Wired Innovator Award. The smartphone app lets users log their moods and symptoms, and share that data with their psychiatrists. The Innovator Award was one of only three awards given nationwide.
Users of the app can record their moods on a scale of one to five by selecting the appropriate "smiley face" icon that matches their current feelings. By linking the app to a Fitbit® activity tracker, users can integrate their sleep and exercise activity, which can be shared with their physician. If a patient is seen by a provider who uses a Cerner electronic medical record, the information is uploaded to their medical records. Users also can download reports of their mood, sleep and exercise activities to bring to their visits.
"At the Tiger Institute, it's our goal to enrich the lives of patients and empower them to take control of their health care," said Bryan Bliven, chief information officer at MU Health Care and executive director of the Tiger Institute for Health Innovation. "MoodTrek™ is a prime example of how we're bridging the gap between providers and patients. We're proud that the app has been recognized with an Innovator Award. It affirms our commitment to improve lives through the use of technology."
The app was developed by Ganesh Gopalakrishna, MD, an assistant professor of psychiatry at the MU School of Medicine and a psychiatrist at MU Health Care. Gopalakrishna worked with Sriram Chellappan, a computer science adjunct professor at the Missouri University of Science and Technology, to create the app. The two, along with Missouri S&T's technology transfer and economic development staff, coordinated development of the app with the Tiger Institute.
MoodTrek™ is available for free on Android and Apple devices. To learn more about the app, visit http://mood-trek.com.
MU Health Care has received several national recognitions for its leading-edge electronic medical record and health technology solutions. In November 2016, MU Health Care and the Tiger Institute received the Transformational Leadership Award from the College of Healthcare Information Management Executives (CHIME) and the American Hospital Association for developing and deploying transformational information technology.
In October 2015, MU Health Care received the global HIMSS Enterprise Nicholas E. Davies Award of Excellence for health care technology innovations to improve patient outcomes. Also in 2015, MU Health Care was named one of two health systems in Missouri to make the 2015-16 "Most Connected Hospital" list by U.S. News and World Report for using health information innovations to improve patient care.