Seth Sherman, MD, a board-certified and fellowship trained sports medicine orthopaedic surgeon at University of Missouri Health Care's Missouri Orthopaedic Institute, has been selected as one of 16 standout sports knee surgeons in North America, according to an article published in Orthopedics This Week.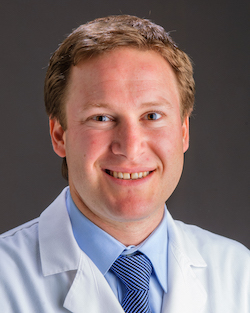 The article featured sports medicine physicians identified by their peers as leaders and innovators. Sherman, who also is an assistant professor of orthopaedic surgery at the MU School of Medicine, was recognized not only for the clinical care he provides but also his work as a researcher, athletic team physician, educator and lecturer.
Sherman specializes in treating a variety of sports-related injuries including complex disorders of the knee, shoulder, hip and elbow. He uses advanced arthroscopic and open surgical techniques to restore damaged joints, ligaments and bones. As a researcher, his work has been featured in more than 65 peer-reviewed publications, and he actively presents his findings at local, national and international meetings.
Sherman completed his residency at the Hospital for Special Surgery in New York City, where he was trained by physicians who also served as team doctors for the New York Giants, New York Mets and New York Knicks. During his Sports Medicine Fellowship at Rush University in Chicago, Sherman was the assistant team physician for the Chicago Bulls and Chicago White Sox. He currently is team physician for the MU Men's Baseball and MU Women's Basketball teams, and also serves as consulting physician for the Missouri Contemporary Ballet and Columbia Rugby Football Club.
Published 40 times each year, Orthopedics This Week features breaking news, analysis and commentary on issues related to orthopaedic surgery.