Aneesh Tosh, MD, a physician specializing in adolescent medicine at University of Missouri Children's Hospital, recently was recognized as a certified eating disorder specialist by the International Association of Eating Disorder Professionals (IAEDP).
Tosh, who also serves as associate professor of child health at the MU School of Medicine, was recognized by the IAEDP for demonstrating clinical expertise through education, experience and completion of a rigorous examination.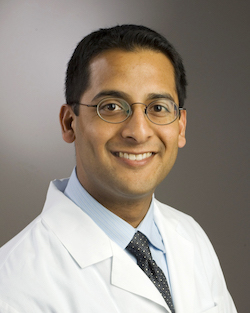 "Eating disorders are difficult illnesses to treat because they require not only medical and nutritional interventions, but mental health care as well," said Timothy Fete, MD, medical director of Children's Hospital, chair of the MU School of Medicine's Department of Child Health and Children's Miracle Network Professor in Pediatrics. "I am proud of Dr. Tosh's passion to advance his expertise as part of our child health team and his commitment to staying abreast of the most up-to-date developments in the field."
Tosh, who received his medical degree from the MU School of Medicine, is board-certified in general pediatrics and adolescent medicine. He completed residency training at Mayo Clinic's campus in Rochester, Minnesota, and an adolescent medicine fellowship at the Indiana University School of Medicine in Indianapolis.
Established in 1985, the IAEDP provides education and high-level training to an international multidisciplinary group of health care providers who treat the spectrum of eating disorder problems.