Getting hit by a car changed Dina McPherson's course of life. Before her accident, she had never heard of traumatic brain injury. Now, she advocates for brain injury survivors. She also took up running as a way to improve her thinking abilities and has run more than a dozen half-marathons since her accident.
On Feb. 26, 2010, a driver in a Mercury Milan hit Dina at the intersection of Providence and Stewart roads in Columbia. Dina, then 23 and recently accepted into MU's master's degree program for English, was walking to a parking garage to retrieve her car. When struck at 40 miles per hour, Dina flew into the Milan's windshield, busting the glass with the left side of her head. She then rebounded from the car, flying about 20 feet into the air and landing on the opposite street, hitting her head on asphalt, which resulted in a skull fracture. She was unconscious when paramedics arrived moments later and found her at a 3 on the Glasgow Coma Scale, the lowest possible.
"Fortunately, I was a couple of blocks from the best trauma unit there is," said Dina, who was rushed by EMTs to the Frank L. Mitchell Jr., MD, Trauma Center at University Hospital.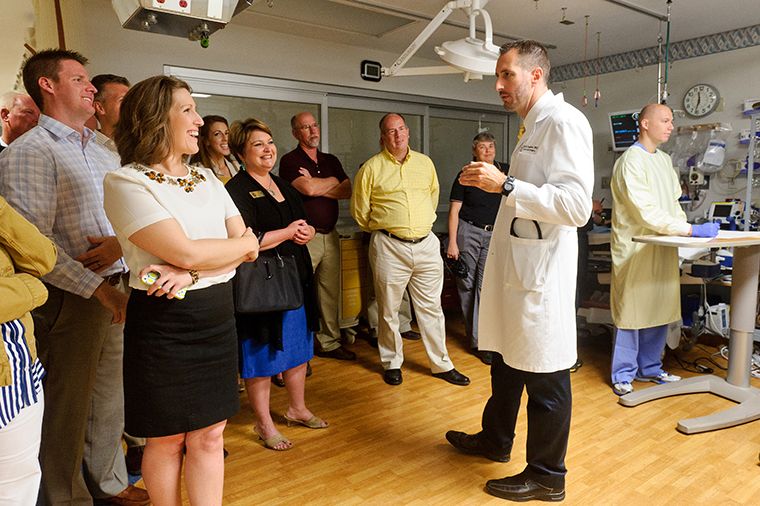 The impact from hitting her head shifted Dina's brain by five millimeters and caused bleeding in the brain. She also had a subdural hematoma (bleeding outside the brain), cerebral edema (brain swelling) and other injuries to her brain as a result of the impact. Surgeons performed a ventriculostomy procedure, during which they drilled a hole in Dina's skull to reduce pressure. She also underwent surgery for a broken left leg from where the car's bumper hit her. She was at University Hospital for two weeks, but does not remember her time in intensive care.
Dina's first recollections began at Rusk Rehabilitation Hospital, an affiliate of Encompass Health and MU Health Care, where she started realizing what had happened. For two weeks she worked with physical, occupational and speech therapists while hospitalized at Rusk. When discharged, she stayed with family in Sullivan, Missouri, and continued to attend therapy appointments to regain her physical and cognitive skills.
"If not for me receiving stellar care from Dr. Stephen Barnes, Dr. James Stannard, Dr. Christopher Wolf, Dr. Eric Hart, Darcy Johnson and all of the other amazing nurses and therapists, I would not be capable of even remembering the names of those who helped me, what they look like or what they even did," Dina said.
She returned to home and work with a new passion: to raise awareness of brain injury as she adjusted to life as a survivor.
"My brain injury is not visible, unlike the scar on my leg from the broken bones, so nobody knows about it unless I tell them," she said.
Dina wrote her master's degree thesis on how head injury is portrayed in literature, merging her pre-accident interest in literature with her post-accident interest in brain injury. Three years after her accident, she started a race fundraiser for brain injury patients at University Hospital. Each month, she facilitates a brain injury support group that meets at Rusk Rehabilitation Center with the Brain Injury Association of Missouri. Dina now works as an office support assistant for Mizzou Therapy Services, with her office located next to the therapists who helped treat her five years ago. As one of her work projects, Dina organized a concussion summit that brought together athletic trainers and health professionals throughout MU's campus —including her former physicians and therapists — to help expedite and streamline the care of patients who sustain concussions. McPherson said that being around people who care deeply about their patients at MU Health Care inspires her.
"Getting great care is significantly important after a traumatic event," Dina said. "It's unfortunate that my accident happened, but it's fortunate that I was so close to MU's trauma center and received the best care possible."