February 27, 2023, was supposed to be a day off for Donna Pond, RN. But instead of tending her garden, painting or playing with her dogs, she went to work at University Hospital excited.
A longtime emergency nurse and educator on campus and in the community, Pond loves her job as MU Health Care's stroke program coordinator. Working with and teaching nursing and medical students is its own reward because Pond gets to touch the lives of hundreds of patients through the people she teaches.
So when those same students requested Pond's presence to help them understand the hospital's just-finished stroke program recertification, she gladly accepted. And it was a good thing she did.
As she walked from her office to a meeting, Pond was hit by a sudden wave of dizziness.
"It was like no dizziness I have ever felt in my life. I reached for the trash can to steady myself and then everything went black," Pond said. "I woke up the next morning in the cardiac ICU with a breathing tube in my throat."
Pond had suffered a sudden cardiac arrest, which caused her to pass out. Despite her confusion, she was able to sit up and communicate with her doctors and family, including her son Conner, a University Hospital cardiac ICU nurse at the time. Pond saw two other familiar faces in her hospital room: Daphne Ingebritson, RN, and Kim Pfeiffer, FNP, longtime co-workers and friends who, Donna would learn, saved her life that day.
Ingebritson heard the trash can hit the floor but didn't hear anyone pick it up. She walked over to the elevators, saw Pond on the floor and immediately checked for a pulse. Not feeling one, she called for Pfeiffer, then for emergency services.
"This isn't the first time I've had to do this, but this is the first time I've had to do this on somebody I know," Ingebritson said.
By the time Pfeiffer arrived, Ingebritson had started chest compressions. The pair administered CPR until the emergency team arrived with an automated external defibrillator (AED) and shocked Pond's heart back into rhythm.
"When we were doing CPR, I saw the light go out of Donna's eyes," Pfeiffer said. "I saw when she was with us and when she wasn't, and I looked at Daphne and I said, 'We're losing her.' It was an eerie moment to see the light really and truly leave someone's eyes, so to be able to see her the next day awake and talking with full faculties was incredible. I'm very grateful."
MU Health Care's in-house emergency team and dedicated heart specialists jumped into action as quickly as Ingebritson and Pfeiffer. Thankfully, Pond's co-workers acted quickly enough that the only long-term effects of the cardiac arrest were a few broken ribs and a sternum fracture. She had no brain damage, the most serious and common neurological side effect in people who survive cardiac arrest.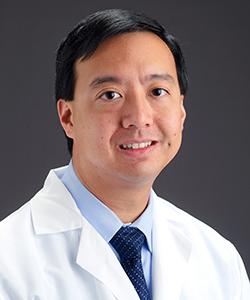 As Pond stabilized, doctors needed to check her heart for the cause of a cardiac arrest. Pond was taken to the cardiac catheterization lab where a computed tomography (CT) scan revealed a clot in her right coronary artery. Interventional cardiologist Albert Chan, MD removed the blockage at once.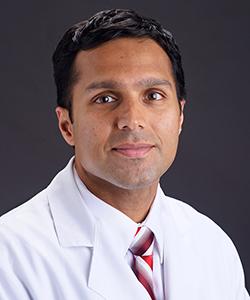 Pond's team of heart experts, including Chan, Arun Kumar, MD, Brian Bostick, MD, Cristina Danila, MD, and Sandeep Gautam, MD, believe the clot was caused by atrial fibrillation (AFib). The most common form of heart rhythm disorder, AFib is caused by an irregular electrical signal in the upper half of the heart, which leads to blood pooling and allows clots to form more easily.
"It's our job to figure out the abnormal heart rhythm in question," Kumar said. "Specific rhythms like ventricular tachycardia and ventricular fibrillation can cause sudden death because your heart is pumping too fast, and your blood pressure drops. It's critical to distinguish whether this is one of those two, versus atrial fibrillation, which we saw Donna had."
Pond is taking medication to manage her heart rhythm and received an automatic defibrillator implant, which measures her heart rhythm and can detect if her heart experiences ventricular arrhythmia or AFib and shock her heart back into rhythm.
"Everybody I encountered on the medical team with cardiology was great," Pond said. "I'm thrilled with my care."
Pond was cracking jokes as soon as her breathing tube was removed.
"She was very much back to normal, her sarcastic, funny self, and so I knew her brain was fine," Ingebritson said.
Though she stayed in the hospital for nearly three weeks, Pond returned to work in mid-April and started going to cardiac rehab to regain her strength, an important step for people recovering from cardiac arrest or heart attack.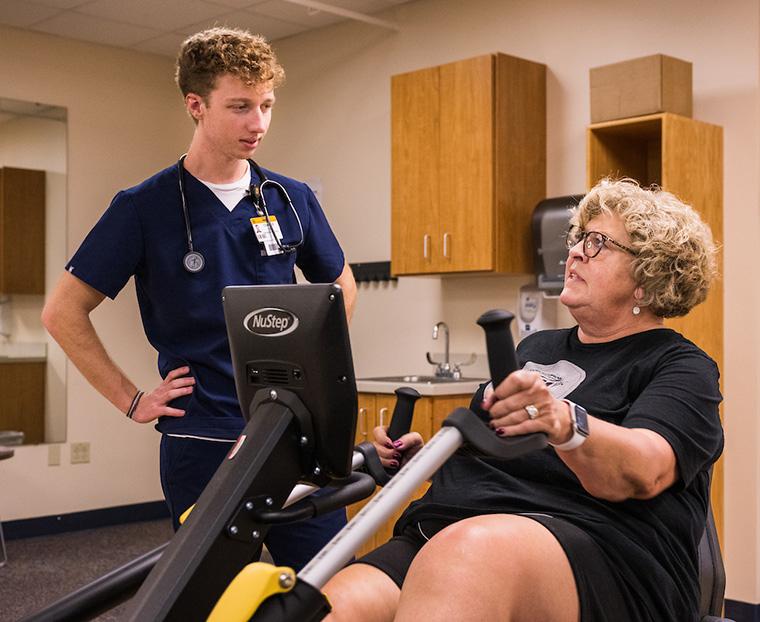 Jokes became a way for Pond and her friends to process the experience as she recovered and returned to work. If she forgot about a meeting, or didn't include an email attachment, well, it was because she died in February. But there was joy and gratitude, too.
"I walked into her room to check on Donna, and she looked at me and said, 'Thanks for saving my life,'" Pfeiffer said. "That was a very sweet moment to share with her."
Pond, Ingebritson, Pfeiffer and Kumar all understand that basic life support (BLS) training and AED use were critically important to her survival and how well she recovered. MU Health Care offers community hands-only CPR training, and organizations including the Red Cross and American Heart Association have BLS training courses that help save lives.
Pond was nearly overwhelmed with support from doctors, nurses and hospital employees across mid-Missouri, including people from the Missouri Emergency Nurse Association, Boone Health, Capital Region Medical Center and SSM Health St. Mary's Hospital in Jefferson City, Missouri, Lake Regional Hospital in Osage Beach, Missouri, and a group of EMS services.
As a policy, patient flower arrangements are kept at the nurse's station, and Pond received so many that the cardiac ICU nurse table looked like a flower shop.
"Nurses not only render medical care; they teach, including every exchange we have with patients," Pond said. "In that way, you reach an exponential number of people. If I teach one nurse who goes out to see 100 patients, and there are 20 nurses in my class, I've touched 2,000 people. That touches me and I'm very proud of that."
Thanks to her passion for teaching and quick, decisive action from her friends and co-workers, Pond is looking forward to touching the lives of many more people in the years to come. And every day at work, she gets to thank Ingebritson and Pfeiffer.
"I say 'Thank you for being my lifesavers. Thanks for being there for me,'" Pond said.