It's hard to make Terry Baum quit.
A lifelong resident of Grantsville, Utah, Baum and his wife Karla have been married for 50 years. Terry grew up in an auto racing family that would pack the living room for Sunday races, and he raced Ford stock cars and worked as an auto mechanic for 45 years.
He only gave up the racing and sold his stock car because his oldest son started to take an interest in it when he turned 16, which made Terry nervous. And he only retired from working as a mechanic because he developed tremors in his hands that made the work too difficult.
But in summer of 2022, Terry was prepared to wave the red flag.
He and Karla were making a pit stop while following the NASCAR circuit to celebrate a family member's retirement in Florida when Terry had his first mini stroke. Doctors there told him to go back home for treatment because they were not able to fix the problem. Then doctors in Utah gave him the same answer: There was nothing they could do.
"That made me feel worthless. It really did," Terry said. "I got sick enough that I was miserable and sort of selfish. My wife and family dug in and fought every day, but I think at the end I was ready to give up."
Terry had a condition called intracranial stenosis in his basilar artery, or a severe narrowing of the main artery supplying blood to the back of his brain. That part of the brain controls heart and lung function, level of consciousness and more, and a major stroke there is life-threatening.
About once a month he'd have another mini stroke, or transient ischemic attack, which made him so dizzy and sick to his stomach that the only thing he could do was lie down. Karla stuck with him through it all, even as his condition worsened, encouraging him to keep going.
"He's too young to give up, he has too many things out there to do," Karla said. "I know his dad would be kicking his butt and telling him, 'You don't give up, son.' And his mom would be saying, 'Terry, this is not you. I've never seen you give up on anything.'"
His condition meant the Baums had to give up visiting Martinsville and Bristol, and they couldn't cheer on Joey Logano or Brad Keselowski. Saddened by his diagnosis and feeling like a burden to his wife and family, Terry wanted to visit his son, James, who had recently moved to New London, Missouri. Some part of him thought it might be his last chance.
While visiting, Terry had a mini stroke, then another two days later. Karla convinced Terry to get in their truck, and their grandson Austin went with them to University Hospital in Columbia. Doctors in the ER recognized what was happening, and one of them said something the Baums hadn't heard before.
"The doctor said, 'I know a lot about our stroke and neurology team, and we have someone who can fix this," Karla said. "I thought he was joking, and Terry said, 'I've been everywhere and told nobody can do this, you're saying somebody can do this?' They admitted him, and then this team comes walking through the door, and it was for real. This doctor, this surgeon, this was the team, I thought, 'They're not kidding. This really can be done.'"
As mid-Missouri's first and only Level I Comprehensive Stroke Center, MU Health Care provides the highest level of expertise for treating stroke patients.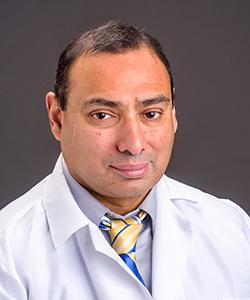 The team that visited the Baums included Adnan Qureshi, MD, and Camilo Gomez, MD, a pair of vascular and interventional neurologists who each have more than 20 years of experience in treating complex problems related to blood flow in the brain.
"I was so happy," Terry said. "Finally, somebody understands what I'm going through. Dr. Qureshi didn't say, 'No,' or he didn't know how, or didn't want to. He said there was a risk it could go sour or I'd have a stroke, but that he had a whole team right there in case it did, and at that point I was ready to take the risk."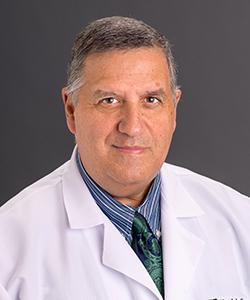 Because a CT scan showed a severe blockage in Terry's basilar artery, and because there were no other medications to try, Qureshi and Gomez proposed a stent placement to reopen the artery. It's a delicate and risky procedure, but one that Qureshi and Gomez helped develop and have successfully performed at MU Health Care many times.
"For Terry, the benefits outweighed the risks, because if we did nothing, the risk of major, debilitating stroke was extremely high," Qureshi said. "Also, MU Health Care is unique in that we have many experienced doctors, people who have decades of experience performing complex procedures including intracranial angioplasty and stent placement. A lot of centers don't have the necessary experience we do to provide such a complex procedure."
It was an emotional moment for the Baums, and they asked for a moment of privacy to make their decision. They called their kids to talk it through, and all gave their blessing while buying last-minute plane tickets to be there for Terry and Karla.
"I called my son on the phone and explained things, and said, 'I'm taking a chance on losing dad,'" Karla said. "He said, 'Mom, I don't think so. I've looked it up, it has been done, and I really think you've gone to the right place and this man can help you.'"
Terry's surgery team included stroke fellows Navpreet Bains, DO, Rami Fakih, DO, and Syed Gillani, MD, nurse practitioner Kim Pfeiffer, as well as a dedicated anesthesiologist and support from nurses and staff. That team decided the best approach for the stent placement, which is delivered with a specialized catheter and inflated at the site of the blockage, was through his arm.
The procedure took two and a half hours and was a complete success. The stent held open the artery, which allowed normal blood flow to resume in Terry's brain. When Qureshi told the Baums in the waiting room that Terry's eyes were open and he'd wiggled his toes, Karla nearly tackled him.
"I held onto him and said, 'I don't know where you came from, Miracle Man, but thank you,'" Karla said. "It felt like we were sent here for a reason. This neurology team at MU Health Care knows what they're doing, and it felt like miracles on top of miracles for us. Terry wanted to be a person and live his life with his family, and that's what we're doing."
After recovering in the ICU, Terry was discharged for rehab a few miles away from University Hospital at Rusk Rehabilitation Hospital, an affiliate of Encompass Health and MU Health Care. Five days a week for two weeks, MU Health Care doctors helped him regain his strength, speech and other daily functions with a personalized recovery plan before he returned home.
Terry will continue to take medication to make sure the blockage doesn't return. But gone are the strokes, and the tremors in his hands that developed before the strokes started.
"One thing that's underestimated in stroke care is patient perspective, and that's highlighted in Terry's experience," Qureshi said. "He was debilitated by this condition, and in the past stroke care has been just about survival. I think that here it's not just survival it's the quality of life, the ability to go back to the activity that he loves, and actually feel like a whole human being again."
As Terry continues to recover, the Baums will get back to enjoying time together as a family, including Sunday NASCAR races. Then, if he and Karla are up for it, they'll hit the road again to see the tracks still on their list, including Pocono Raceway.
But more than anything, Terry is glad he and Karla never gave up.
"I'm just really happy to have that second lease on life because it seems like forever that I've been looking in a dark hole," he said. "Life is finally enjoyable again."