Loren Figueroa's knee injury nearly ended her athletic career as a diver on the University of Missouri's Swim and Dive team.
"I cannot imagine my life without this sport," Figueroa said. "It is my life. I always wanted to dive in college. In high school, I drove an hour every day to practice."
The Houston, Texas, native chose to attend Mizzou in large part for its diving program. She made a big splash her freshman year in 2012, claiming five first- place finishes in the 1-meter dive and one first-place finish in the 3-meter dive in the regular season. Advancing to finals, she was named the Big 12 Diver of the Year and earned All-American honors after finishing second on the 1-meter dive at the National Collegiate Athletic Association (NCAA) Championships.
Figueroa injured her knee while warming up at the NCAA Championships. Her foot swung out in front of her and her heel hit the springboard, hyperextending her knee. She competed through the pain, but two days later her knee locked up and she couldn't straighten it.
A leading-edge procedure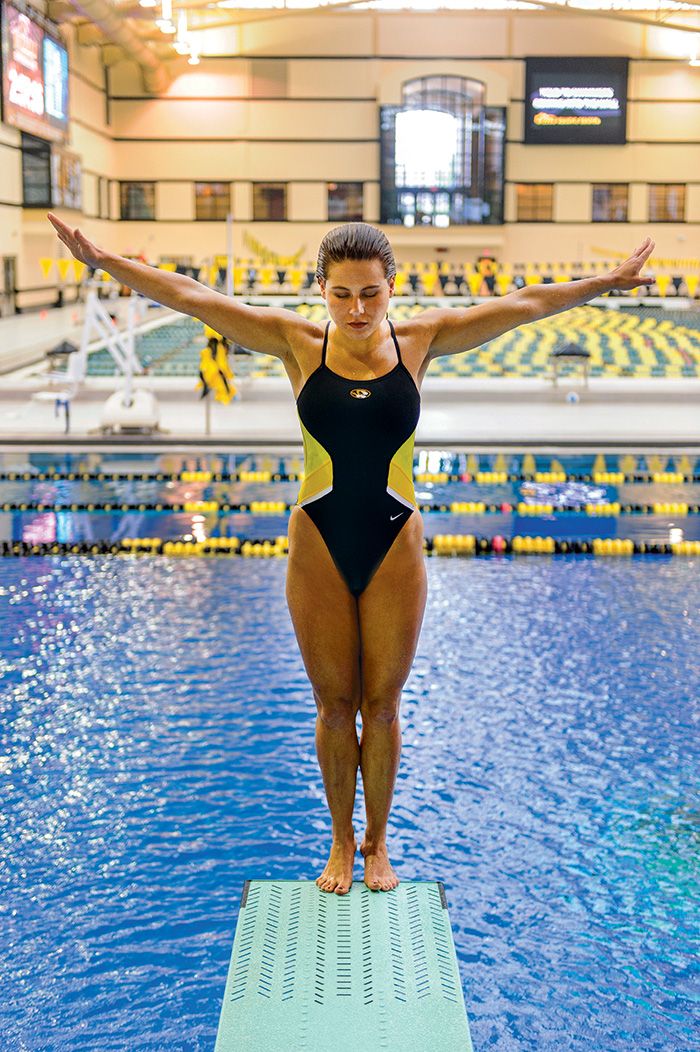 James Stannard, MD, an orthopaedic surgeon and medical director of the Missouri Orthopaedic Institute, performed an arthroscopic procedure on Figueroa's knee. She had torn all the cartilage on her medial femoral condyle on her left knee.
"We tried a microfracture technique, which is a 'gold standard' for this type of injury, and it failed," Stannard said.
If Figueroa had not been at the Missouri Orthopaedic Institute, she may have been told that she would have to give up sports. Too young for a total knee replacement, athletes with knee injuries like Figueroa's often retire early and cannot exercise beyond walking.
"Articular cartilage injury is an area that causes a lot of patients to lose the ability to use their knee joint because of a small area of arthritis," Stannard said. "Think of a pothole in a road. A pothole can make it difficult to use that road. Articular cartilage is the surface that allows you to bear weight on that knee in a painless manner when you bend and straighten that knee. If you get a hole in that cartilage, it's like a pothole where it no longer smoothly bends and straightens and it can cause a great deal of pain. In an older patient, joint replacement is the treatment of choice. In a younger patient, that is not an option. A lot of patients have lost the ability to do what they love to do."
Finishing her freshman year with an injury, Figueroa worried that her first year of college competition would be her last.
"I saw my dreams going down the drain," she said.
Fortunately, Stannard excels at a new, regenerative cartilage transplant technique in which live cartilage is transplanted into an injured area. "We're putting in live cells that, if they take, will keep replenishing the cartilage and matrix around that cartilage to where, just like your own cells, they'll keep replenishing it for your lifetime," Stannard said. "The tissue is alive and rebuilding itself."
Stannard has performed the surgery on hundreds of patients and described the procedure to Loren Figueroa and her parents, Salvador and Maria Figueroa. "If you have a large pothole, or large portion of damaged cartilage, we can replace that whole area with a fresh graft of donor tissue," Stannard said. "It can take a patient from limited ability — barely able to walk — to being back to where he is functional in life, and in some cases, back to doing athletics."
It's amazing that I was able to come back after such a bad injury. I am really grateful.
Loren Figueroa
A key to a successful cartilage transplant is getting a graft of a comparable size. Figueroa's knee was measured and then they would wait until a matching graft became available. For patients who are an average size, a match might be available in a week.
Stannard warned Figueroa that because of her petite size of 5'2," her wait could be as long as six months. Four days later, Stannard called Figueroa. A match was available.
Stannard performed the surgery in May 2012 at the Missouri Orthopaedic Institute. Figueroa was discharged from the hospital a week later. Maria stayed with her daughter the first two weeks after the surgery.
"The whole process of recovery was challenging," Loren Figueroa said. "After a while, I could walk again but nothing else. I was so used to being physical. My whole life was lifting weights, going to class, training for competition and doing homework. Now I couldn't do any exercise except walk for nine months."
Back to the boards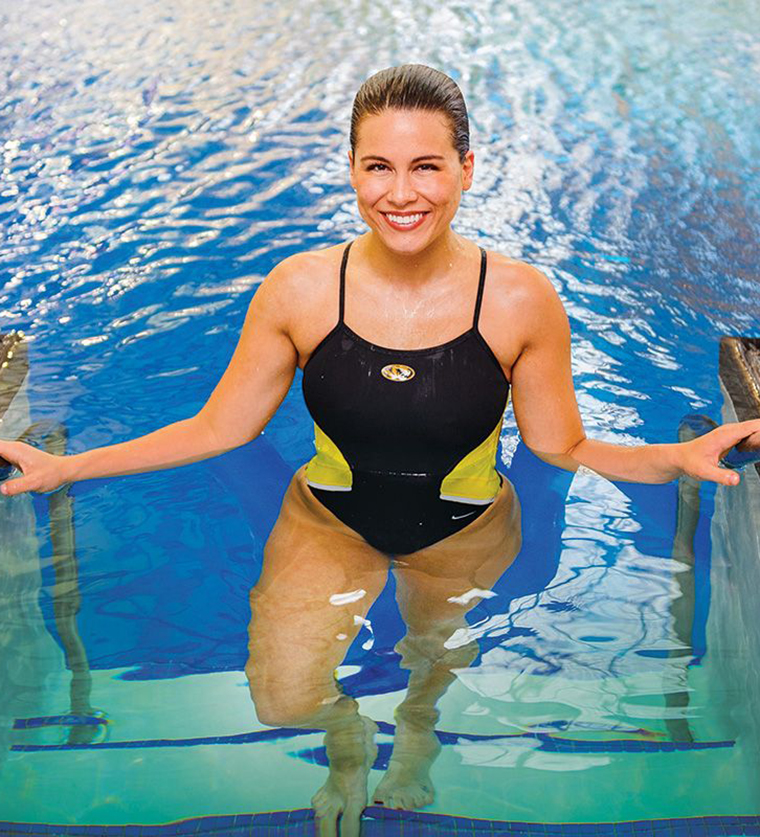 "We had just joined the SEC when I hurt my knee," Figueroa said. "Everyone thought I would quit."
In her first meet back in 2013, Figueroa broke Mizzou's record in the 3-meter dive. She won her first 10 meets in the 1-meter dive and entered the NCAA championships undefeated. She earned the SEC Female Diver of the Week honors a league-high three times during the season. Again, she earned All-American first team honors. She ranks second all-time at Mizzou in the 1-meter dive and holds the school's 3-meter record.
In April 2015, at the end of her senior year, Figueroa retired from diving. While it was bittersweet, she knew that one day her college diving career would end.
"If it weren't for Dr. Stannard and the cartilage donor, there's no way I would have been able to return and finish my diving career," Figueroa said. "It's amazing that I was able to come back after such a bad injury. I am really grateful."