Now that children as young as 6 months old are eligible to receive the Pfizer and Moderna COVID-19 vaccines, many parents and guardians have questions.
As a mother of three children, Margaret Day, MD, understands the need for information. And with her background as a family medicine doctor and vaccine expert, she can share the answers.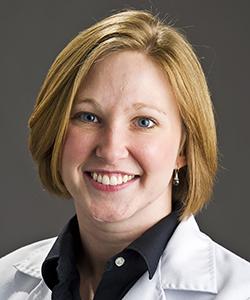 Is the vaccine safe for children?
Yes. "The vaccines for COVID-19 time and time again show excellent safety profiles, including the data for children," Day said.
Most recently, the Pfizer and Moderna vaccines were authorized for kids ages as young as 6 months based on results from clinical trials. The Pfizer vaccine was tested on approximately 1,170 kids aged 6-23 months and 1,800 children aged 2-4 years. The Moderna vaccine was tested on approximately 1,700 kids 6-23 months and 3,000 children aged 2-5 years. The most common reported side effects for both vaccines included irritability, decreased appetite, fatigue, fever and pain at the injection site.
Previously, the Pfizer vaccine was authorized for kids ages 5-11 based on results from a clinical trial of 2,268 children that showed no new safety concerns. Previous research on the Pfizer vaccine in kids ages 12-15 showed side effects similar to those reported in adults, including pain at the injection site, fatigue and headache.
Day said these side effects generally are less severe in children than adults. "Your child may feel flu-like symptoms for a few days, but it's short-lived," Day said.
If your child is uncomfortable, you can treat post-vaccine symptoms with over-the-counter medications such as acetaminophen or ibuprofen. (However, experts say you should not give your child medication before they get the vaccine because it's unclear how they might affect the immune response.)
If kids generally have less severe cases of COVID-19, why should they be vaccinated? 
The first reason is to avoid potentially severe illness and long-term symptoms from a COVID-19 infection.
Although kids generally have less severe cases of COVID-19 than adults, they do experience severe COVID-19 including hospitalization and death. In addition, there are rare but severe complications, such as multisystem inflammatory syndrome in children (MIS-C). This condition, in which different organ systems like the heart and lungs become inflamed, is most common among children younger than 10.
The second reason is to protect your whole family and your community, especially those who are too vulnerable to get the vaccine or for their vaccines to work as intended. The more people who are vaccinated, the slower COVID-19 will spread. This is called herd immunity.
"Kids and adolescents make up about 22% of our population, so they're an incredibly important part of achieving herd immunity," Day said.
How did researchers determine the dose of vaccine for young children?
The dose of vaccine authorized to use in children is smaller than the adult and adolescent dose. This is not due to children's smaller size as many people assume, but instead relates to the strongly reactive immune systems in young patients. The lower dose was thoroughly tested to be sure children create enough antibodies to protect them and minimize any side effects from the vaccine.
The Pfizer vaccine dosage for kids 6 months to 4 years is 3 micrograms — one-tenth of an adult dose. The vaccine is given in a three-dose series, with the first two shots three weeks apart and the third given at least eight weeks after the second. In kids 5-11, the Pfizer dosage is 10 micrograms given in a two-shot series spaced at least three weeks apart.
The Moderna vaccine dosage for kids 6 months to 5 years is 25 micrograms. It is given in a two-shot series spaced four weeks apart. The Moderna vaccine for children 6 and older has not yet been authorized.