At University of Missouri Health Care, we have a long-standing history of excellence in patient care and medical education. For many decades, we have cared for Missourians and their families. Everything we do is grounded in our mission, our vision and our values.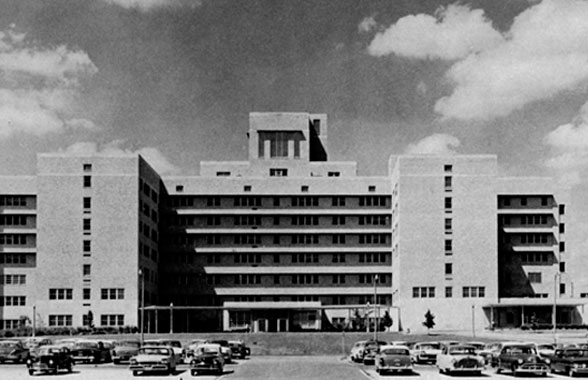 Here are some important dates in the early roots of MU Health Care:
In 1845, the University of Missouri established the medical department.
In 1846, the University awarded its first medical degrees.
In 1872, the School of Medicine was established in Columbia.
In 1901, our first clinical training facility – Parker Hospital – opened as one of the first teaching hospitals in the United States.
Accomplished Alumni
Some of our most notable alumni:
Dr. Justus Ohage performed the first gallbladder removal in the Western Hemisphere in 1886.
Dr. William Mayo (Class of 1854) went on to found the world-renowned Mayo Clinic in Minnesota.
Dr. Charles Guthrie (Class of 1902) participated in the Nobel Prize-winning research that established the early foundations of vascular surgery and organ transplantation.
Dr. Walter Dandy (Class of 1907) invented the ventriculogram of the brain, a significant contribution to early brain surgery.
Historical Timeline
Year
Milestone
1901
Parker Memorial hospital opens.
1923
Noyes Hospital, the University's second facility, opens.
1952
University Hospital officially becomes an academic medical center and receives $13.6 million in funding for the construction of a new hospital.
1953
Construction starts on University Hospital. The seven-floor structure was designed to have a 441-bed outpatient and emergency care facility.
1956
— University Hospital opens on One Hospital Drive. Forty-nine patients are transferred from Parker Memorial and Noyes Hospital.
— Hugh E. Stephenson Jr., MD, led the team that performed the first surgery at University Hospital.
— September 17: The first baby is born at University Hospital.
1957
Twenty-one medical students receive four-year medical degrees from the University of Missouri.
1958
On Jan. 24, 1958, the first open-heart surgery is performed in the area lead by Hugh E. Stephenson Jr., MD, and cardiologist Jack Martt, MD.
1964
The first prosthetic heart valve is implanted at University Hospital.
1966
The research wing is added to the medical school portion of University Hospital.
1968
In June, ambulance service begins at University Hospital.
1969
Nutrition and food services starts tray service for patients.
1972
First kidney transplant procedure in the area takes place at University Hospital.
1977
George David Peak Memorial Burn Care Center is dedicated.
1982
University Hospital's Level 1 Trauma Center is established, and the Staff for Life Helicopter Service begins.
1986
The Pediatric Intensive Care Unit opens; this was the only one at the time in central Missouri.
1989
— First heart transplant is performed in the area, lead by Jack Curtis, MD.
— In December, the first MRI is performed.
1995
Missouri Telehealth Network is established so patients in rural areas can receive care from University Hospital without having to drive to the clinic.
1996
An angioplasty is performed on a 13-ounce infant.
1999
The Critical Care Tower is dedicated. It is home to surgical, cardiac, nonsurgical and neonatal intensive car units.
2001
Patient Safety Net is created. The electronic event reporting system available online to health care staff, physicians and consumers is one of the first web-based systems in the country.
2002
The new Emergency Center opens at University Hospital.
2009
The Missouri Psychiatric Center opens in the facility previously occupied by the state's Mid-Missouri Mental Health Center.
2010
— The Missouri Orthopaedic Institute opens as central Missouri's largest freestanding orthopaedic center.
— Children's Hospital moves to Women's and Children's Hospital in the former Columbia Regional Hospital building on Keene Street.
2013
University Hospital expands, opening a new patient care tower. Ellis Fischel Cancer Center moves from Business Loop to the patient care tower, bringing outpatient and inpatient cancer care under one roof.
2015
Opening of South Providence Medical Park off South Providence Road in south Columbia. The ambulatory care clinic offers primary care, behavioral health and pediatrics along with ancillary services such as labs, imaging and pharmacy.
2018
Opening of 16,964-square-foot expansion and renovation of University Hospital's emergency room.
2020
Opening of 28,000-square-foot Battle Avenue Medical Building in northeast Columbia. The multi-clinic facility will house family medicine, women's health, pediatric and psychiatry services.
2021
— Groundbreaking for new Children's Hospital and Birth Center that will open in 2024 next to University Hospital.
— Move of pediatric emergency room and pediatric inpatient services from Women's and Children's Hospital on Keene Street to University Hospital.