At MU Health Care, it's our mission to save and improve lives. Nurses are an integral part of our goal. We are proud to provide patient-centered care each day. We have developed a professional practice model based on evidence-based practices with oversight from our clinical shared leadership.
To see what MU Health Care Nursing has done in the last year see our 2022 Nursing Annual Report.
See what MU Health Care Nursing did in 2021. View our 2021 Nursing Annual Report
Professional Practice Model
Our professional practice model is a graphic representation of how MU Health Care nurses collaborate, communicate and develop professionally to provide the highest-quality, evidence-based care to our patients. Watch the video to learn more.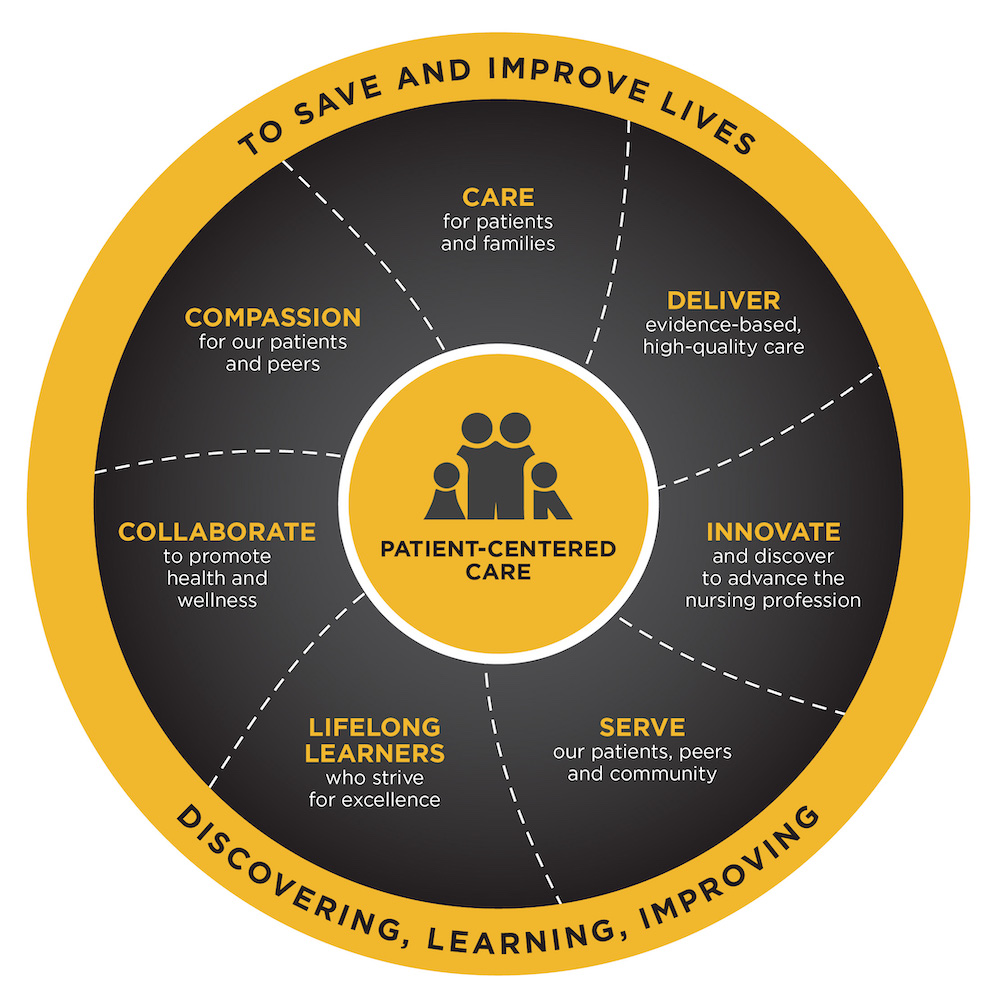 Here are the things you need to know:
The foundation of our model is patient-centered care.
The three overarching themes are: discovering, learning and improving.
The model has seven tenants. We start with the Culture of YES attributes: Care, deliver, innovate and serve. Additionally, we focus on collaboration, compassion and learning.
The nursing professional practice model is something we strive to practice each day. At MU Health Care, we continue to talk about the model, and it's importance.
Evidence-based practice
Evidence-based practice (EBP) is an approach to problem-solving that takes into consideration best evidence, clinical expertise, and patient preferences to inform change and improve outcomes.
Participation in EBP activities provide many benefits to nursing and other healthcare professionals at both the individual and organizational levels including enhanced job satisfaction, improved patient outcomes, and lower staff turnover to name a few.
To learn more on how you can gain the necessary skills to utilize EBP methodologies that will positively impact your practice and improve patient outcomes, consider attending one of the many EBP educational opportunities offered throughout the year. All events will be announced through internal MU Health Care newsletters and email announcements.
Nurse Residency Graduation EBP Poster Presentations
The EBP Fellowship program
Clinical Shared Leadership, EBP-Expert Council
Employee Resources
There are many EBP resources and tools to guide staff through the EBP process at https://www.mymuhealth.org/evidencebasedpractice
For assistance with your EBP project, please contact:
Renae McIntosh DNP, RN
Coordinator of Nursing Research & Evidence Based Practice
Office of Professional Practice
Clinical Shared Leadership
The primary objective of Clinical Shared Leadership is to engage nurses and health care professionals at all levels to define, monitor, and evaluate the practice of nursing and patient care at MU Health Care. The structure serves as a vehicle for communication throughout the health care system and creates shared accountability for the following five principles:
Standardizing practices and policies across similar settings and among like patient populations and integrating these practices into the multidisciplinary environment of care.
Defining, monitoring, achieving, and rewarding the highest level of professional nursing performance.
Assuring the continued professional development and growth of our nurses and health care professionals.
Improving patient and employee experience and engagement.
Supporting the MUHC Mission, Vision, and Values, including the Vision for Nursing Service which states: "Nursing at University of Missouri Health Care is a vibrant, collaborative community that thrives in a dynamic empowering environment. It is a center of excellence with a positive and supportive care environment. We create a workplace where nurses are valued and empowered to practice. At the end of the day, nurses feel satisfied and know they made a difference in someone's life."
All of our Clinical Shared Leadership meetings occur on the 2nd Tuesday of the month to enable all staff to participate within a single time commitment.
Clinical Shared Leadership Councils:
Executive Council
Education & Development Council
Nurse Leadership Council
Practice Quality Council
Recognition & Advancement Council
Technology Informatics Council

Clinical Informatics Committee
Multidisciplinary Informatics Committee

Evidence-based Practice Council
Nursing Strategic Plan
MU Health Care Nursing's strategic plan incorporates influences from the Magnet journey and helps our nursing workforce stay on track for meeting organizational goals.
Strategic Growth: Invest in growth strategies that secure the patient base needed to support the clinical, education and research missions and thrive as a leader in interdisciplinary and translational research.
Patient and Family Experience: Ensure patients and their families are at the center of everything we do.
Our People: Attract, engage, develop and retain talented and diverse faculty, staff and leaders who bring distinction to MU Health Care.
Quality and Safety: Seek innovations that instill the highest standards for quality and safety, enhancing the care we provide.
Financial Performance: Ensure organizational adaptability, resilience and financial success.
Clinical Ladder Program
Our Nursing Clinical Ladder Program is a yearly incentive program that rewards front-line nurses for their dedication to bedside nursing as well as personal and professional development. It's available to all full-time nurses and its five-tier system is designed to provide opportunities for advancement — both in care practices and leadership skills — without having to step away from patient care.
Each level offers a variety of accomplishments for nurses to choose from, including literature reviews, leadership roles on the unit, committee participation, presentations, continuing education courses and more. Depending on which level a nurse reaches, they can receive anywhere from a 2% to 5% annual reward.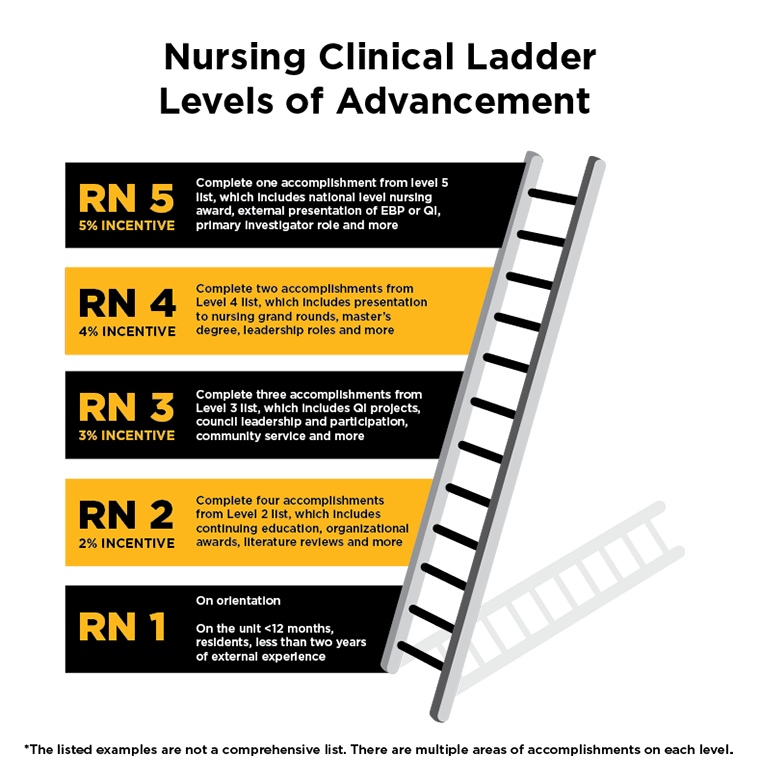 Recognizing our Nurses
DAISY Award
The DAISY Award is a nationwide program that rewards and celebrates the extraordinary clinical skill and compassionate care given by nurses every day. MU Health Care is proud to be a DAISY Award Hospital Partner, recognizing one of our nurses with this special honor every month.
Each DAISY Award honoree will be recognized at a public ceremony in her/his unit and will receive:
a certificate,
a DAISY Award pin
a hand-carved stone sculpture entitled A Healer's Touch.
Additionally, everyone in the unit celebrates with cinnamon rolls. Patients, visitors, nurses, physicians and employees may nominate a deserving nurse by filling out this online form. 
Extraordinary Nurse Leaders
MU Health Care also recognizes our extraordinary nurse leaders. Nurses, physicians, employees and volunteers may nominate a deserving nurse leader by downloading and completing this nomination form.
This new program launched in 2019 and presents our nurse leaders with quarterly awards. Eligible leaders include any nurse leader who impacts patient care directly including supervisors, managers, directors, executives, educators or nurses who specialize in case management, informatics or patient flow.
Kudos
Kudos is an employee recognition, feedback, and organizational communication platform, focusing on employee relationships and organizational culture. It allows our nurses and staff to recognize and share accomplishments within the system. That recognition helps generate a culture of gratitude and belonging.
Continuing Education
MU Health Care Nursing has adopted the mantra of "Discovering, Learning, Improving", as seen in our Professional Practice Model. Continuing education and lifelong learning are a tenant of MU health Care nursing.
Here are some additional opportunities to expand your education while being a nurse at MU health Care:
Nursing Grand Rounds: MU Health Care, Nursing Grand Rounds Program mission is to share nursing knowledge and enhance professional development to achieve exceptional quality and patient-centered care utilizing evidence-base practice, interdisciplinary collaboration, and the Culture of Yes.
Nursing Certification: The Nursing Certification Award program provides nurses seeking specialty certification beyond what is required by their jobs with funds to achieve (prep course and testing only) and maintain their certification. The Nursing Certification Award program encourages staff nurses to continue to grow and build skills in order to contribute to higher standards of care and better patient outcomes.
Educational Assistance Program: MU health Care staff and nurses can receive a 75% reduction on tuition and supplemental fees for University of Missouri College level courses for up to 6 credit hours per fall and spring semester and 3 credit hours of summer semester.
Simulation Lab: Our simulation lab with CEDrick, a simulation mannequin, simulates real patient conditions in a safe learning environment. Nurses can practice their documentation skills in our staffed computer lab. Our educators provide numerous classes and updates while unit-based educators tailor training to the needs of each unit.
Nursing Core Courses: Additional training may be required in the following courses dependent upon the nurse's unit of hire. 
Adult and pediatric chemotherapy
Basic life support
Advanced life support
Pediatric life support
Neonatal resuscitation program
Fetal monitoring
Basic dysrhythmia
Cardiac education
Diabetes management
IV therapy
CPI training for crisis intervention
Trauma education and annual trauma updates
Multidisciplinary mock code sessions