The DAISY Award is a nationwide program that rewards and celebrates the extraordinary clinical skill and compassionate care given by nurses every day. DAISY is an acronym for Diseases Attacking the Immune System. University of Missouri Health Care is proud to be a DAISY Award Hospital Partner, recognizing one of our nurses with this special honor every month.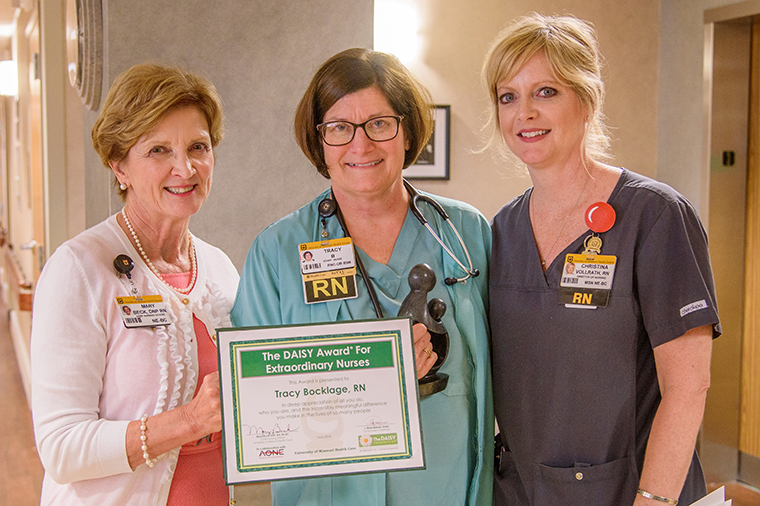 Each DAISY Award Honoree will be recognized at a public ceremony in her/his unit and will receive:
A beautiful certificate
A DAISY Award pin
A hand-carved stone sculpture entitled A Healer's Touch
Additionally, everyone in the unit will celebrate with cinnamon rolls — a favorite of Patrick "Pat" Barnes during his illness.
About the DAISY Foundation
The DAISY Foundation was established in 2000 by the family of J. Patrick "Pat" Barnes who died of complications of the autoimmune disease Idiopathic Thrombocytopenia Purpura (ITP) at the age of 33.
During Pat's eight-week hospitalization, his family was awestruck by the care and compassion his nurses provided not only to Pat, but also to everyone in his family. So, one of the goals they set in creating a foundation in Pat's memory was to recognize extraordinary nurses everywhere who make an enormous difference in the lives of so many people by the super-human work they do every day.
DAISY Award criteria at MU Health Care
DAISY nurses at MU Health Care know that caring makes a big difference in their patients' experiences and outcomes. We want to recognize nurses that go above and beyond the expected to:
Be a role model for patient-centered care by involving the patient and family as part of the health care team
Communicate with compassion, using words the patient and family understand
Collaborate with health care team members and advocate for patient wishes
Create a positive, supportive and safe healing environment for our patients
Give high-quality care to patients and their families
Be viewed as an excellent role model
Show commitment to the growth of the nursing profession
DAISY recognizes nurses that add a special touch to make a difference in the life of a patient.