At MU Health Care, safety is our top priority. As the region's leader in infectious diseases, including COVID-19, we have used our expertise to design a safe and convenient experience in our facilities.
Take a look at the processes we have in place to reduce exposure to COVID-19 in our hospitals and clinics.
Screening measures
Our staff screens patients over the phone for symptoms such as cough, fever and shortness of breath prior to scheduled appointments.
Everyone who enters MU Health Care facilities, including employees, has a temperature check and is screened for COVID-19 symptoms.
Any employee who has symptoms of a respiratory illness or a high temperature is required to stay home until recovered.
Testing for COVID-19
Patients with scheduled procedures that require sedation, including surgeries, are tested for COVID-19 prior to their procedure.
The test can be done at the MU Health Care drive-thru testing site or at a facility near the patient's home, if available.
If a patient tests positive and if surgery can be safely delayed, we will postpone it until a later date.
Masking
All staff in clinical areas are required to wear a mask and maintain physical distancing when possible.
All patients and visitors are required to wear a mask, and you are encouraged to bring with one with you. If you do not have a mask, a staff member will provide one for you.
Waiting room changes
Image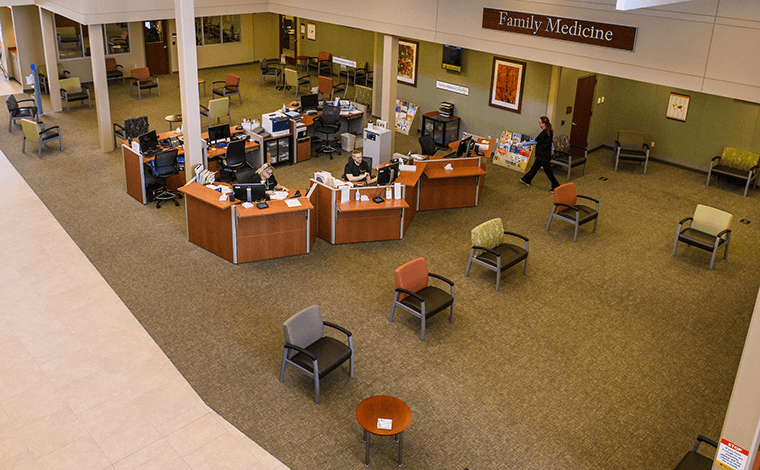 We have rearranged waiting rooms and clinic spaces to better allow for physical distancing.
We have installed Plexiglass in our check-in desks to add a barrier where physical distancing is impractical.
We have an extensive disinfection process for all patient care equipment and furniture.
Limiting visitors
Isolating COVID-19 patients
When patients with symptoms of COVID-19 arrive at our facilities, we immediately isolate them to limit the risk of transmitting the virus to other patients.
We have highly specialized teams caring for COVID-19 patients in dedicated areas of our hospitals.
When patients with respiratory symptoms call for appointments, we can arrange telehealth appointments to help to keep them at home. If they need to come into a clinic, we take them straight to an exam room with appropriate precautions.
We're here for you
We have made these changes to ensure you are comfortable and safe receiving care in our facilities.
Delaying care may lead to additional health complications in the future, so it's important you continue to seek care, especially if you have a pre-existing or chronic condition. With the changes to our facilities, and our expanded telehealth options, we are prepared to meet your health care needs today and into the future.
If you have questions, call your doctor. Together, you can make a care plan and discuss the appointment option, whether through telehealth or in-person, that works best for you.