A large patch of invasive grass in his backyard prompted 70-year-old Steve Perkins of Boonville, Missouri, to make a terrible mistake. He reached for a can of gasoline.
"I already tried to get rid of it using weed killer," Perkins said. "When that didn't work, I decided to spread some gas on the area and burn it off."
Perkins had used accelerants for years to burn brush piles and leaves without any problems.
"I remember the air being really still," Perkins said. "As soon as I lit the gas, there was an explosion that threw me backward about 10 feet. Either I had spilled some fuel on myself or the fumes had soaked into my clothing, I don't know. What I do know is that I was on fire."
Perkins tried to roll on the ground to put the flames out. When that didn't work he began shedding his clothing. Even after pulling the flaming fabric from his body it continued to burn. First responders would only find the metal zipper of his blue jeans and his belt buckle.
Perkins was flown to University of Missouri Health Care's Frank L. Mitchell Jr., MD, Trauma Center by the Staff for Life Helicopter Service. MU Health Care is the only health system in central Missouri to offer comprehensive care for severe burns.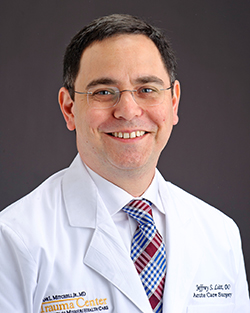 "Mr. Perkins arrived at our facility with burns over 45 percent of his body," said Jeffrey Litt, DO, an acute care surgeon at MU Health Care and medical director of the burn and wound center. "Based on his age and the severity of his burns, he had about a 30 percent chance of surviving his injuries."
Litt said that each year about 30 patients are hospitalized at MU Health Care for severe burns caused by accelerants. Many of these patients come from rural areas and used flammable liquids to start fires for burning brush piles, leaves and other debris.
"Gasoline vapors are heavier than air and without a breeze they tend to linger," Litt said. "Using an accelerant like gasoline is dangerous because it takes very little to cause the vapor to flash, igniting like a fireball."
Although Litt said that gasoline is the most dangerous accelerant, it is not the only one that can cause significant burns.
"People tend to think of diesel fuel as a safe accelerant to use for starting fires," Litt said. "It is less likely to create fumes, so they think it won't flash on them like gas will. However, we have treated several people with severe burns caused by diesel fuel, as well as kerosene, lighter fluid and other accelerants. There is no safe accelerant."
Litt said that patients with burns over 40 percent or more of their body typically require sedation for the first three weeks of care. During this time, their wounds are cleaned and the deeply burned tissue is removed. The burns are covered with long-acting antibiotic dressings until the patient's body can withstand multiple skin graft procedures. Depending on the severity of the burns, even a partial recovery may take more than a year.
"Mr. Perkins is doing very well considering how badly he was burned," Litt said. "He spent six weeks in our burn center. After discharge, he received additional care at Rusk Rehabilitation Hospital, an affiliate of Encompass Health and MU Health Care, to get his strength back. Now he is home getting stronger and better every day."
"I've got a long way to go, but I feel very lucky," Perkins said. "I've been told it will take about a year for me to regain 90 percent of the function I had before. Although I beat the odds by surviving, it didn't need to happen in the first place. What I'd like to say to everyone is, 'Don't use gas to start a fire. It takes just one time to end up with an injury that has lifelong consequences.'"
Download a high-resolution photo of Jeffrey Litt, DO (Password is muhealth.)
Download broadcast-quality video related to this release. 
Username: MU (all caps)
Password: mu (lowercase)