Richard Weachter, MD, cardiac electrophysiologist at University of Missouri Health Care, recently became the first cardiac electrophysiologist in central Missouri to implant the smallest, minimally invasive cardiac pacemaker available.
The tiny device, called the Micra pacemaker, is about one-tenth the size of a conventional pacemaker. Unlike traditional pacemakers, this one does not use wires, called leads. The leads are usually threaded through blood vessels to connect to the heart. This new, leadless pacemaker attaches directly to the heart via small tines. Once positioned, it sends electrical impulses to the heart through electrode tips when it senses a slow heartbeat.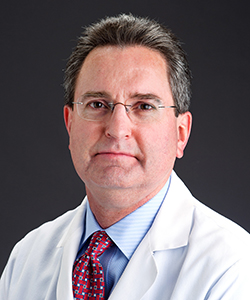 "We are very excited to offer our patients the most technologically advanced care available," Weachter said. "The procedure we use to implant this new pacemaker is less invasive because it doesn't require a surgical incision in the chest. Instead we implant the device directly into the heart through a catheter inserted into the femoral vein in the patient's leg. For our patients, that means a shorter recovery period."
Surgeons often use a pacemaker to treat bradycardia, a slow heartbeat. It works by sending electrical impulses to the heart to increase heart rate when it senses the heart slowing. More than 250,000 adults nationwide have pacemaker implants.
Eliminating the leads means eliminating a common source of pacemaker complications. A traditional pacemaker's leads can simply wear out over time. This new pacemaker completely eliminates that possible complication. Additionally, it has a twelve-year battery life, and is completely invisible after implantation.
"This new pacemaker is not designed to replace all pacemakers," Weachter said. "Currently, the leadless pacemaker can be used for patients who need a single lead pacemaker. But just like most medical advancements, I expect we will see this technology develop for more and more patients over time."
For more information about MU Health Care's Heart and Vascular Center, visit www.muhealth.org/conditions-treatments/heart-vascular
Photos: Click here for high-resolution photos.
Video: To download broadcast-quality video, go to http://muextmedia.missouri.edu/munews/.
Login: GUEST (all caps)
Password: guest (lowercase)