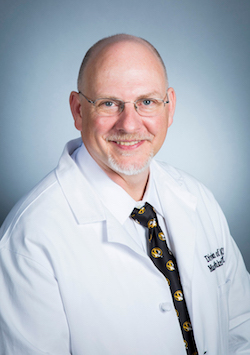 While some people choose to ignore birthdays, Larry Walter of Smithton, Missouri, celebrates his three times a year.
In October of 1996, then 42-year-old Walter received a kidney transplant at University of Missouri Health Care after waiting two years on an organ transplant list. The transplanted kidney remained viable before failing six years later, forcing Walter to once again join the nearly 2,000 Missourians waiting for an organ transplant. Walter received a second kidney transplant on Nov. 15, 2005.
"I wouldn't be here today if it wasn't for the gift two kidney donors made to save my life," Walter said. "Thanks to their gifts — which I celebrate each year — and the organ transplant team at MU Health Care, I've been able to see my two sons grow up. I've been able to enjoy my grandchildren, and see them grow and learn."
Walter's two kidney transplants are among the 1,125 renal transplants performed at MU Health Care in the program's history. On Feb. 8, team members will celebrate the program's 45th anniversary. On that date in 1972, Gilbert Ross Jr., MD, professor emeritus in the Division of Urology at the MU School of Medicine, performed mid-Missouri's first kidney transplant at University Hospital.
"I remember that day very well," said Ross, who served as the founder and director of MU Health Care's renal transplant program until 2008. "We actually performed two transplants that day, and both were successful. Since then, it's been remarkable to see the advances that have been made in the field. More and more patients are living longer, healthier lives. I'm proud to have played a part in making that happen for our community here in central Missouri."
In the 1970s, the one-year survival rate for a transplanted kidney was about 50 percent, said Mark Wakefield, MD, director of MU's renal transplant program and associate professor of urology. Now, the one-year survival rate is more than 90 percent.
"Thanks to advances in immunotherapy medications, we've seen the success rate nearly double," Wakefield said. "Now, the average lifespan of a transplanted kidney is about 12 to 15 years. Those years are invaluable to our transplant recipients."
Wakefield attributes the success of MU's renal transplant program to a multidisciplinary approach. The renal transplant team includes nephrologists, surgeons, nurse coordinators and administrative staff who work together to coordinate care for each patient. 
As the only health system in mid-Missouri with a transplant program, MU Health Care provides kidney transplant services to central Missourians, reducing the need to receive care in St. Louis or Kansas City.
"We know that if someone lives more than 100 miles from a transplant program, they're unlikely to get a kidney transplant," Wakefield said. "It's our mission to provide these services to the region and state. We're proud that our health system places an emphasis on the importance of organ donation."
While the kidney transplant team is celebrating 45 years of lifesaving care, the need for more eye, tissue and organ donors increases each day. At MU Health Care, 115 people are on a waiting list to receive a kidney. MU Health Care partners with Midwest Transplant Network to provide organ and tissue donation services to the community.
"If you're thinking about becoming an organ donor, I would strongly encourage it," Walter said. "I can't put into words just how much of an impact the two donors made in my life. I owe them so much and am so grateful for their gift of life."
Missouri residents are encouraged to learn more about becoming organ donors by visiting the Midwest Transplant Network's website at www.MWTN.org or by signing up for the Missouri donor registry at http://YesTheyWantMe.com. To learn more about MU Health Care's kidney transplant program, visit www.MUHealth.org.